There comes a time in every NFL writer's life where a mock draft needs to be written.
Almost everybody does them. There isn't much difference between them – at least in the picks.
Therefore, it is my duty to continue the trend. My mock is not like the others. My mock has more chaos (sans trades) in it. My mock is the best mock.
Strap in, kids. You're going to hate this.
(To evaluate the draft stock of prospects, I perused over 25 mock drafts done by 'experts' as well as auto-running 50 mock drafts – 10 on each of the 'big' mock draft sites.)
Jacksonville Jaguars – R1P1
The Pick: Trevor Lawrence, QB, Clemson
The Rationale: Duh.
New York Jets – R1P2
The Pick: Penei Sewell, OT, Oregon
The Rationale: The Jets could be in the market for a quarterback at 2OA, or they could be willing to move back (not that I think the pick position would be any different) and grab more draft capital. However, Joe Douglas is very well versed in how a good offensive line can change a football team (you can thank Baltimore for that, Jets fans) and takes a can't-miss prospect to help Sam Darnold stop seeing ghosts.
Miami Dolphins – R1P3
The Pick: Devonta Smith, WR, Alabama
The Rationale: Since Trevor Lawrence is off of the board, and there doesn't seem to be a trade in the works for Deshaun Watson, the Dolphins need to get second-year starter Tua Tagovailoa some help. Devonta Smith is the cleanest wideout prospect in this draft, and should immediately upgrade the Dolphins' passing attack.
Atlanta Falcons – R1P4
The Pick: Zach Wilson, QB, BYU
The Rationale: Arthur Blank can wax poetic about Matt Ryan all he wants, but Wilson's floor is higher than Ryan's ever was, and his upside is wildly high. His worst game still garnered a rating over over 75, and the Falcons need to start thinking about the future.
Cincinnati Bengals – R1P5
The Pick: Ja'Marr Chase, WR, LSU
The Rationale: AJ Green is as good as gone. The next guy on the list is Tyler Boyd, followed by second-year wideout Tee Higgins, who had a pretty good rookie season. However, if you have the chance to get a talent like Chase, especially in a loaded division, you take the chance. He'd flesh out the passing game for stud quarterback Joe Burrow – if he has time to throw (we'll address that in a later mock).
Philadelphia Eagles – R1P6
The Pick: Micah Parsons, LB, Penn State
The Rationale: I know, I know. You're taking a linebacker in the Top 10?! Stop talking. Micah Parsons is one of the best 'backer prospects to come out in a few years – and I'm including Devin White, Patrick Queen, and a couple others in this statement. He's absurdly good at both run defense, and rushing the passer. The Eagles have Alex Singleton, who looks strong, but you don't want to count on TJ Edwards continuing to develop. Micah Parson's is this year's best linebacker and it isn't particularly close. Since LB is the biggest defensive need for the Eagles, consider that fixed.
Detroit Lions – R1P7
The Pick: Kwity Paye, EDGE, Michigan
The Rationale: If you want your defensive to bite off some kneecaps, look no further than Kwity Paye. Not only does he get to stay in Michigan, but he adds a lot of attitude and anger to a team that wants to be gritty and hit you in the mouth. Paye adds an instant upgrade to a struggling pass rush, and fits the identity of the city. Add the fact that he can set the edge very well in a division that includes Aaron Jones, AJ Dillon, Dalvin Cook, and David Montgomery, and you have a better-than-average chance of him winning that battle.
Carolina Panthers – R1P8
The Pick: Justin Fields, QB, Ohio State
The Rationale: Count me among those that thinks Two-Glove Teddy ain't it. While Carolina has some glaring defensive needs, and could use some upgrades along the offensive line, an athletic quarterback with superior arm talent could upgrade the offense immediately. He's not without his hiccups, but they're far fewer than some detractors would have you believe.
Denver Broncos – R1P9
The Pick: Patrick Surtain II, CB, Alabama
The Rationale: The Broncos need cornerback help in the worst way, and Surtain is the best cornerback prospect in the draft. Long, athletic, aware, and speedy enough to keep up with just about any wideout he'll face, he'd be a difference-maker in the defensive backfield.
Dallas Cowboys – R1P10
The Pick: Christian Barmore, DL, Alabama
The Rationale: Have you seen the Cowboys defense lately? Yeah, neither has anybody else. Barmore is an instant upgrade along the defensive line on a team who should pick nothing but defensive talent in the entire draft.
New York Giants – R1P11
The Pick: Rashawn Slater, OT, Northwestern
The Rationale: The Giants' offensive line is.. well, it's offensive. They've already gotten a fairly impressive offensive line coach this off-season, now it's time to find more talent. Enter Rashawn Slater, who allowed just five pressures in 2019. He's a bit small, but makes up for it in athleticism, so count me amongst those who think that he and Andrew Thomas help solidify a line that was absolute garbage in 2020. Worst case scenario? Gettleman has landed an All-Pro Guard with this pick.
San Francisco 49ers – R1P12
The Pick: Trey Lance, QB, North Dakota State
The Rationale: The 9ers seem to love passers that need development, and they also seem to love quarterbacks that thrive in run-first offenses, so the natural assumption is that they'll love Trey Lance. He's not without his issues, but he's got better arm talent than Jimmy G, and more upside than downside. Find videos and game tape of him casually flicking the ball down the field 60 yards and you'll sell yourself on visions of him tossing it to Kittle and Aiyuk.
Los Angeles Chargers – R1P13
The Pick: Christian Darrisaw, OT, Virginia Tech
The Rationale: The Chargers need to protect their gem of a quarterback in a bad way. Their offensive line was dismal in 2020, and while the interior is a bigger need, Darrisaw is a first-round lock with talent that they won't find in later rounds. He's a mountain of a man who doesn't allow people to touch his friends. Plug him in at left tackle and stymie opposing pass rushers.
Minnesota Vikings – R1P14
The Pick: Jayson Oweh, EDGE, Penn State
The Rationale: The Vikings are trying to offset the loss of Everson Griffen with this pick, and they do so in a big way. Not only is he a physical specimen, he's fast enough to play any EDGE position, and his run defense is picking up quickly. In a division with Aaron Rodgers and friends, it'll pay to make their lives uncomfortable.
New England Patriots – R1P15
The Pick: Kyle Pitts, TE, Florida
The Rationale: Yes, Jaylen Waddle is still on the board. No, the Patriots aren't going to take him. Bill Belichick is scared of taking first-round wideouts, and the lack of progression from former first rounder N'Keal Harry just adds to that. Enter giant wideout Kyle Pitts, who can play tight end, outside receiver, and slot mismatch. The Patriots would be remiss to not take him at 15, and he would be an instant game-changer for.. whoever is at quarterback in 2021.
Arizona Cardinals – R1P16
The Pick: Jaylen Waddle, WR, Alabama
The Rationale: Waddle doesn't have to wait to hear his name any longer, as the Cardinals replace Hall of Famer Larry Fitzgerald with the 'other' Alabama wide receiver. While he has somewhat of a limited sample size, he possesses all of the tools necessary to be a dominant force at the Z or slot positions. He's a touch bigger than Marquise Brown, with a higher floor and more upside.
LAs Vegas Raiders – R1P17
The Pick: Gregory Rousseau, EDGE, Miami
The Rationale: Rousseau has a limited sample size, but Gruden's Raiders don't care about anything except potential. His absurd athletic ability, and his incredible length will intrigue a team that needs a pass rush in a bad way. Rousseau is a scary Top-20 pick when you think about the potential for bust due to limited experience, but he's got Top-5 potential when you project his ceiling.
Miami Dolphins – R1P18
The Pick: Teven Jenkins, OT, Oklahoma State
The Rationale: Teven Jenkins is an animal. A road-grading, pancaking son-of-a-bitch. He's got the length and the athleticism to help protect the squirrely little Tua, and could help the Dolphins take that next step towards (or into) the postseason.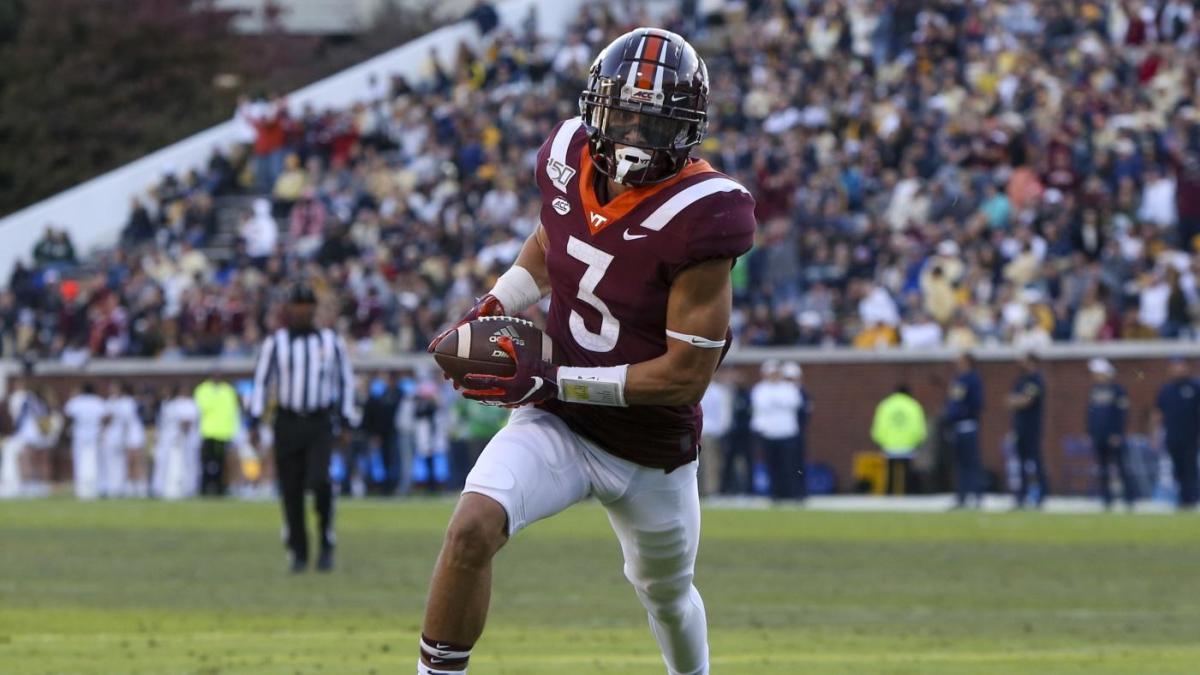 Washington Football Team – R1P19
The Pick: Caleb Farley, CB, VT
The Rationale: The WFT need a quarterback pretty badly, but in a mock with no trades, any quarterback left here, would be a reach. Their second-biggest need is probably cornerback, and Caleb Farley was phenomenal in 2019, allowing a passer rating of under 27. He's long, athletic, and his coverage ability may be the all-around best in this class. On a team that already boasts a gnarly defensive line, he immediately helps the backend.
Chicago Bears – R1P20
The Pick: Jeremiah Owusu-Koramoah, LB, Notre Dame
The Rationale: The Bears have need at quarterback, but might land Carson Wentz. They have need at wideout, but that's assuming Allen Robinson leaves. I'm not a fan of any offensive line prospects at 20OA, so enter JOK, a problem at linebacker. Pair him with Roquan Smith, and put Danny Trevathan on the bench until further notice. Tighten up the second level of a defense that has a chance to be great.
Indianapolis Colts – R1P21
The Pick: Azeez Ojulari, EDGE, Georgia
The Rationale: Azeez is a bit undersized, but makes up for it in speed, athleticism, processing, and edge-setting. This is a playoff team who might get Carson Wentz. They already have a good defense, but it's lacking on the edge, and Ojulari can make an impact early on. Give a gritty team some more attitude, and watch this defense work.
Tennessee Titans – R1P22
The Pick: Jaelan Phillips, EDGE, Miami
The Rationale: The Titans defense was among the worst in the league in 2020, and Phillips can do everything that the guys currently on the team cannot. His injury history gives me pause, but if he can stay healthy, he might end up being the best edge rusher in the draft. He's absolutely electric when he's on the field, and Titans fans that enjoy defense would embrace him immediately.
New York Jets – R1P23
The Pick: Jaycee Horn, CB, S. Carolina
The Rationale: The Jets have more holes than just about any other team in the NFL. Since there are no solid quarterbacks available at 23OA, and the offensive line prospects available aren't as good at their positions than Jaycee Horn is at his position, they take Jaycee Horn and plan on using a man-heavy scheme in the future.
Pittsburgh Steelers – R1P24
The Pick: Trevon Moehrig, S, TCU
The Rationale: The Steelers have a bad habit for reaching, during their first pick in the draft. In this case, they hit on a safety. Moehrig is the prototypical size for an elite NFL safety, and has the skills to match. Pair him with Minkah Fitzpatrick, and don't worry about the safety position for the next half-decade.
Jacksonville Jaguars – R1P25
The Pick: Alijah Vera-Tucker, OT, USC
The Rationale: The Jaguars have their quarterback of the future, and now they need to protect him. AVT likely projects as a very good guard at the next level, but he excelled at tackle in college, so you need to give him his shot there. His versatility will be a boost for the Jaguars offensive line, and no matter where he ends up, he'll be an upgrade on their line.
Cleveland Browns – R1P26
The Pick: Nick Bolton, LB, Missouri
The Rationale: The Browns have a gaping hole in the middle of their defense, and Nick Bolton is here to fill it. He's not the most physically imposing guy, but he's a workhorse. He's led the SEC in defensive stop for the last two seasons, and has the processing power to play incredibly fast – even at the NFL level. The Browns defense is to blame for their failure against the Chiefs, and this is a solid start to solving that issue.
Baltimore Ravens – R1P27
The Pick: Rashod Bateman, WR, Minnesota
The Rationale: The Ravens have a passing game problem. A couple, actually. But the one they can solve here, is the drafting of a dominant outside receiver to help improve that part of Lamar's game. Bateman might be the best route-runner in this draft, and can beat you in more than one way. He has outstanding hands and will battle for every ball, against any defender. Take some attention off of Marquise Brown, and open up Mark Andrews.
New Orleans Saints – R1P28
The Pick: Kadarius Toney, WR, Florida
The Rationale: The Saints have a bonafide question mark at quarterback, and some not-so-apparent holes on the defense. One not-so-sneaky need is to open up the offense. Enter Kadarius Toney, who is a human highlight reel. He's ridiculously explosive, and he breaks tackles like Lamar Jackson breaks ankles.
Green Bay Packers – R1P29
The Pick: Rondale Moore, WR, Purdue
The Rationale: Aaron Rodgers is coming off of a bonafide MVP season, where he had Davante Adams and uh.. y'know, some other guys. Rondale Moore can give him a second consistent option behind Adams, and the Packers can show Rodgers some love at the same time. Moore hasn't had a lot of time outside, but he's an insanely good slot wideout that can make a scary offense even scarier.
Buffalo Bills – R1P30
The Pick: Asante Samuel, Jr., CB, FSU
The Rationale: The Bills have an electric offense that probably needs a tackle, but I'm not as sold on Alex Leatherwood as most people are. I am however, sold on taking ASJ here, since he won't be around when the Bills pick again. ASJ is the perfect compliment to the baller that is Tre White. He allowed a passer rating of 46.2 while dominating college's best wide receivers. He has some work to do to be considered elite, but he's the Bills' CB2 immediately.
Kansas City Chiefs – R1P31
The Pick: Wyatt Davis, OG, Ohio State
The Rationale: The Chiefs are obviously a powerhouse, but need an upgrade at the offensive guard position. Wyatt Davis is a plug-and-play Day 1 starter that is probably the best guard in the draft when it's all said and done. He's allowed a total of four combined QB hits and sacks over the past two years. The rich get richer.
Tampa Bay Buccaneers – R1P32
The Pick: Carlos Basham, Jr., EDGE, Wake Forest
The Rationale: This is going to come across as a bit of a reach, but when you're picking last in the draft, you need to reach a little bit because your guy isn't going to be there in Round 2. I think the Bucs will love Basham's ability to push into the pocket and finish the play. On a team that doesn't and won't have many holes, EDGE is still a need, and Basham fills that gap easily.
In Closing:
I know, I know. There are some picks that people will wholly disagree with.
You want to fight about it? Come find me on Twitter @LateRoundCorner. Want to applaud the pick? Same goes.
I look forward to it. I welcome it.
Next up? Some talk about bust potential. Keep an eye out.