The Pac-12 has been an endless content machine in recent years, thanks in large part to Pac-12 After Dark, the late-night broadcast that truly channels the feeling of staying up too late. But this year, something seems to have kicked the conference into chaos overdrive. They've beaten playoff contenders, lost to FCS teams, gotten a kicker ejected, and witnessed the birth of a local deity. So which teams have contributed the most to possibly the most chaotic year in the history of the most chaotic conference?
1. UCLA
Season to Date: W 44-10 Hawaii, W 38-27 LSU, L 37-40 Fresno State
Props to UCLA, who opened the season with fans clamoring to see QB Dorian Thompson-Robinson's improvement. Instead, the Bruins threw it just 20 times and introduced us to Michigan transfer Zach Charbonnet, who trucked approximately 100 Rainbow Warrior defenders on his way to 106 yards and 3 TDs on just 6 carries. Then, UCLA took SEC football to LSU, throwing just 16 times and giving Charbonnet and Brittain Brown 28 combined carries en route to a 38-27 win that has engendered talks of LSU's fall from grace.
And then came Fresno State in a classic Pac-12 After Dark spot. What ensued was a game on crack cocaine, as my friend Devin Jackson put it in a group chat message. Four lead changes in the fourth quarter, five total turnovers. Fresno QB Jake Haener took a big hit late in the game, stayed in, and threw multiple darts while visibly wincing, including a few plays where he fell to his knees gasping for air. Postgame, Chip Kelly said they threw the "kitchen sink" at Haener, but he handled it all. It's a game that will be remembered forever, and Haener made sure his is the name that will be synonymous with it.
So the scorecard for UCLA is as follows: quench hype for Thompson-Robinson while building it for Charbonnet; start a dialogue about whether Ed Oregeron was ever actually good; get ranked and then produce an ESPN instant classic that they, in true Pac-12 fashion, lost; be the victims of a budding legend. They're burning college football down by the end of this season.
2. USC
Season to Date: W 30-7 San Jose State, L 28-42 Stanford, W 45-14 Washington State
USC has had an enjoyable reputation as one of the wackier programs in college football during the Clay Helton era, and this season has not disappointed. 30-7 against San Jose State looks okay, except that it was 13-7 going into the fourth quarter thanks to a trademark Clay Helton slow start. The Trojans also had 13 points heading into the fourth the next week against Stanford, but the Cardinal just happened to have 35. Trojan kicker Parker Lewis also managed to get ejected on the first play of the game after committing a targeting penalty on the opening kickoff. Tanner McKee accounted for 3 TDs in his first collegiate start and Clay Helton was fired by Monday.
With a new head coach (interim Donte Williams) and quickly a new QB (Jaxson Dart) after Kedon Slovis was injured, nobody would have been overly surprised if the Trojans came out a bit deflated against Washington State. Instead, Dart threw for 391 yards and 4 TDs and USC dominated 45-14. It's been a common theme with USC: starter gets injured, freshman comes in and plays well, we all talk about how maybe they should keep the job, old starter transfers. Slovis did it to JT Daniels, who now plays for Georgia. Sam Darnold did it to Max Browne, although Browne mainly got benched for playing poorly.
So, scorecard: worse-than-it-looks win against an in-state Group of 5 team; the only kicker ejection I've ever seen; firing Clay Helton by week 3; manufacturing a possible QB controversy (although the likelihood of this remains to be seen); getting college football fans to talk about Urban Meyer again. It's not new, necessarily, but you're lying if you think it's not funny.
3. Washington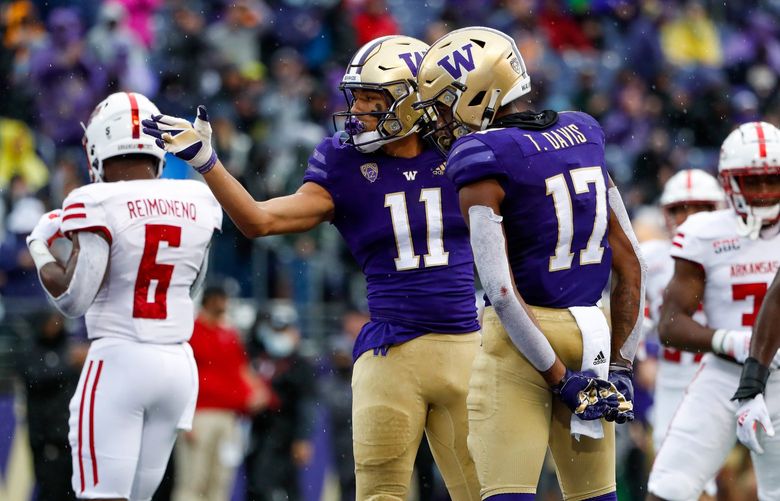 Season to Date: L 7-13 Montana, L 10-31 Michigan, W 52-3 Arkansas State
After seeing that the AP had ranked this Washington team coming into the season, most of my friends from college had the same sentiment: dude, how? Jimmy Lake's first season as head coach was not particularly inspiring despite a berth to the Pac-12 championship game that later had to be declined. The defense looked a bit softer than in recent years, the offense looked like it had just landed from 1985. Optimism did not abound, but at least they'd get a tune-up against Montana before facing a slumping Michigan program in primetime.
Or, their top 4 receivers will get injured, Dylan Morris will throw 3 picks, and they'll score 7 points in the worst loss in program history. Then they'll be outclassed by Michigan to start 0-2 for the first time since 2008 and give up a breakout game to Wolverines running back Blake Corum. Fans clamor for offensive coordinator John Donovan (and maybe Lake too) to be left on the tarmac in Ann Arbor. Seats for the Arkansas State game pop up on resale for $3 in the lower bowl.
A modicum of sanity returned this week when UW took care of business against the Red Wolves, but the scorecard remains: be the first ranked team to lose to an FCS team since 2016; cause discourse about Michigan being back; land multiple coaches on the hot seat by mid-September. Somehow, this season has made firing Bush Hamdan seem like a questionable decision, and if that's not chaos, nothing is.
4. Colorado
Season to Date: W 35-7 Northern Colorado, L 7-10 Texas A&M, L 0-30 Minnesota
The Buffaloes were not projected to be particularly good this season, but they still managed to follow through on the annual FCS drubbing most Power 5 teams partake in before…holding #5 Texas A&M to 10 points??? Yeah, Colorado led 7-3 for the majority of the game, with a defensive gem against the Aggies, who lost starter Haynes King early in the game. Zach Calzada was inconsistent but came up clutch in the end, marking another one possession loss for the conference.
So naturally, this week, they give up 30 points to a Minnesota team missing Mo Ibrahim. It's the first time they've been shut out at home since 2012, despite the fact that the Gophers had given up 57 points in their first two games. Listen, Colorado is rebuilding, and that's fine, but that only adds fuel to the chaos fire.
Scorecard: hold the #5 team in the country to 10 points and force them to make a fourth quarter comeback; get shut out at home for the first time since 2012; have 273 passing yards and 1 passing touchdown total through three games. There's a real football team somewhere in there, but for now, Colorado is roughly equivalent to the FCS team that gives your favorite team a scare once a year. And that's good content!
5. California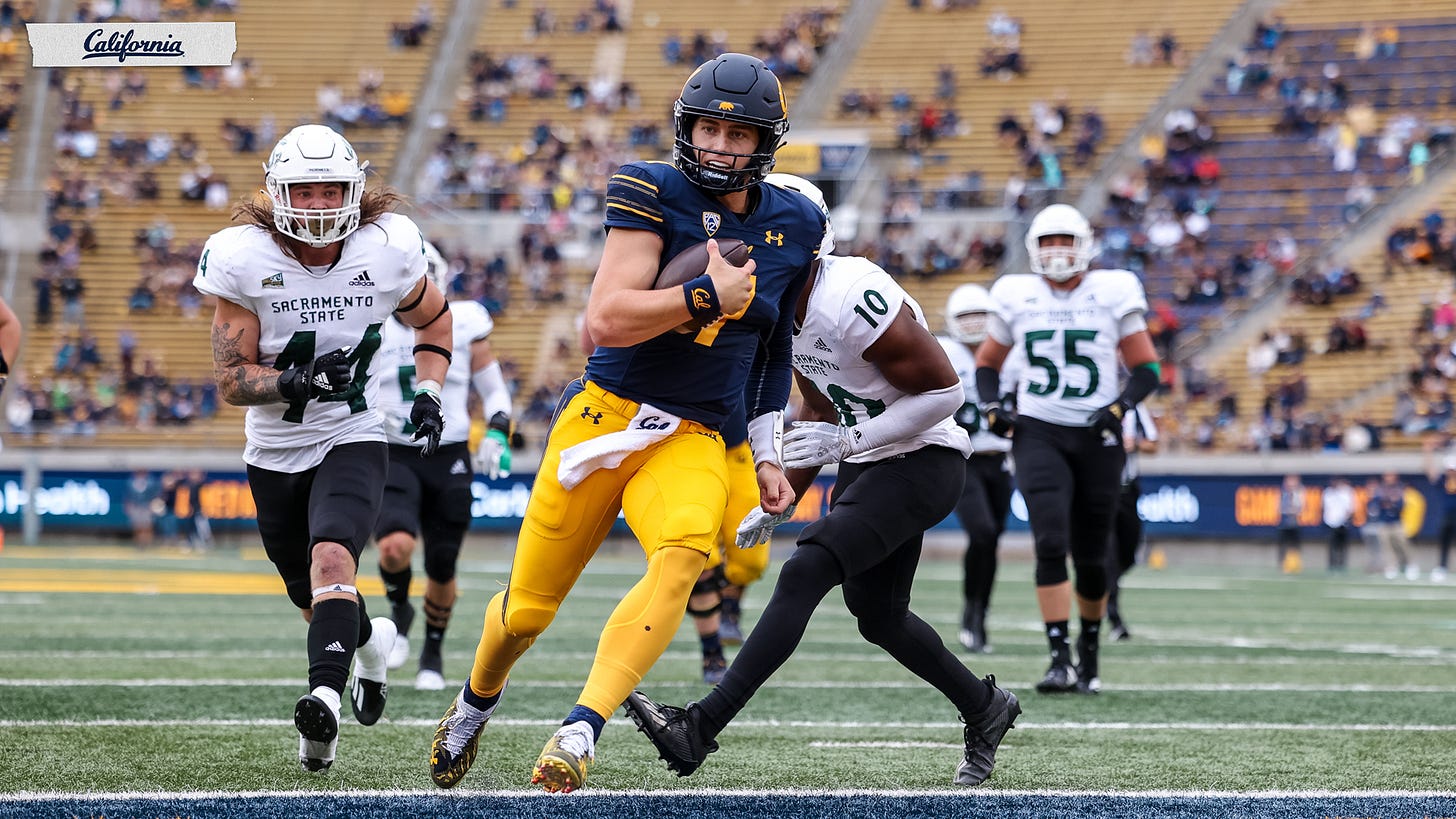 Season to Date: L 17-22 Nevada, L 32-34 TCU, W 42-30 Sacramento State
Cal led 14-0 against Nevada and 19-7 against TCU. Such is life as a Pac-12 team. The Nevada loss has an extra air of schadenfreude about it for a few reasons. 1) Nevada had to travel almost 2,000 miles to practice at seven different fields, a basketball court, a convention center, and a parking garage due to smoke from wildfires in the northern Nevada area. They still beat Cal. 2) Carson Strong, the Nevada QB that large swaths of the internet have crowned QB1 for the 2022 draft, grew up an hour from the Golden Bears stadium. He was a Cal fan, went to Cal camps, then blew out his knee senior year of high school and never got the offer from his hometown team. He had 312 yards passing and 2 TDs. 3) It's the first nonconference loss for Cal under Justin Wilcox.
The TCU loss is a bit less upsetting, but it did mark Cal's first time going 0-2 in consecutive years since 1994-95. Also, they lost by 2 points after botching the snap on one PAT and retracting another to go for two after a TCU penalty, which is a very Pac-12 way to lose a game. Against Sacramento State, it was 28-6 at one point before the Hornets launched a comeback attempt that fell short.
Scorecard: lose to a team of wildfire-induced transients led by a guy who wanted to play for you his whole life; channel the pro team down south by losing a 2 point game thanks to special teams miscues; blow two 2 touchdown leads and let an FCS team get close to making you blow a third; go 0-2 in back-to-back seasons for the first time since the PlayStation came out. Cal seems like a first-half team, which opens the possibility of some truly ridiculous games. They're a sleeper for most chaotic team in the conference.
6. Stanford
Season to Date: L 7-24 Kansas State, W 42-28 USC, W 41-23 Vandy
Stanford hasn't played a home game yet this season, traveling from Jerry World to Los Angeles to Nashville some 3,400 miles. It's objectively very funny that anyone thought putting a Kansas State-Stanford matchup in Arlington was a good idea, considering the Arlington game four years ago was Michigan-Florida. This year's edition attracted a quarter capacity crowd who got to watch Stanford get smacked by one of the teams that was likely going to be orphaned if the Big XII didn't scoop up a few American teams. 97 combined offensive snaps, 31 total points, a benched quarterback for Stanford.
You can tell where this is going. The Cardinal bounced back from that stinker against K-State with 83 combined points against the aforementioned USC and perennial basement dweller Vanderbilt. As far as the Trojans game goes: it feels natural to say that Stanford has USC's number recently, but they've actually only won 4 of 7 since USC hired Clay Helton with two games left in the 2015 season. It's more equitable than some stretches of the rivalry, certainly, but it also feels like they've been more of a thorn in the side even while the program has been in a downturn.
It's a bit of a lighter scorecard for the Cardinal: finagle their way into Cowboys Stadium to lose to Kansas State rather soundly; bench a QB a week into the season; be the straw that broke the camel's back as it pertained to Clay Helton, allow Vanderbilt's first opening drive score since November 2020. David Shaw is too disciplined of a coach for much chaos, but the general atmosphere of college football is sometimes too much for even the most serious individuals.
7. Arizona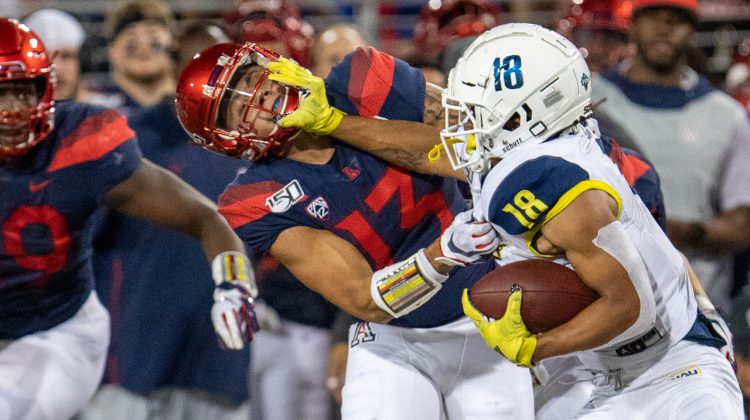 Season to Date: L 16-24 BYU, L 14-38 SDSU, L 19-21 Northern Arizona
Now, you may see three losses to inferior competition and think that Arizona is severely underrated in these rankings. But here's the thing: we knew Arizona was gonna suck. They were picked last in the Pac-12 preseason media poll by a wide margin, their own SB Nation writers predicted them to win 5 games maximum and said a successful season would be three wins, and Bleacher Report picked them to go 1-11.
You'd think that one win would probably be FCS Northern Arizona, a school whose most famous alumni is either YouTuber Michael Reeves, Bengals OL coach Frank Pollack, or preseason QB sensation Case Cookus. NAU kicked off the season with a 42-16 loss to reigning FCS champions Sam Houston State and a 34-7 loss to South Dakota, good for a point differential of -53 heading into the Arizona game. And yet, the night ended with one NAU coach proclaiming that the Lumberjacks "run this state" in the press box. Wildcats QB Will Plummer threw an interception to Texas Tech QB Tyler Shough's brother Brady and was benched.
BYU and SDSU are at least competent football programs, so losing to them when you haven't won a game since 2019 and pundits think you'll win 3 games all year isn't so bad. But BYU was theoretically entering a down year after the departure of Zach Wilson and SDSU is still not a team a Pac-12 program should be losing 38-14 to.
Scorecard: hire Jedd Fisch, who is immediately made fun of by most of the internet; lose to a new look BYU; get blown out bad enough by SDSU that there's not even a game recap on ESPN; play 3 QBs in 3 games; lose to an 0-2 FCS program and have them claim that they run all of Arizona. It's not going to get better soon for the Wildcats, but they're this high for ceding control of an entire state to Lumberjacks. Don't lose to FCS teams.
8. Utah
Season to Date: W 40-17 Weber State, L 17-26 BYU, L 31-33 SDSU (3OT)
Utah lands this high mostly because of an absolute speedball of a game against SDSU this past weekend. Weber State does not run Utah as of yet, and BYU is a competent football program, as we have mentioned. Losing by 9 and turning the ball over twice to a rival hurts, though, especially when it results in said rival beating you for the first time since 2009, when both teams were still in the Mountain West. 26-17 makes it look closer than it was, too: it was 23-7 going into the fourth quarter.
Anyway, that SDSU game! The Aztecs took a 24-10 lead early in the third after a Charlie Brewer interception on Utah's first drive of the third quarter. Brewer played one more drive and then was benched for Cameron Rising, who led the comeback to force overtime, including a late two point conversion because of a missed extra point. Both teams scored TDs in the first overtime, then Utes kicker Jadon Redding missed a 37 yarder, then Aztecs kicker Matt Araiza matched him by missing a 36 yarder. SDSU dialed up a Philly Special play to score in the third overtime, while Utah's attempt was overturned after review to give the Aztecs the win. It's a perfect microcosm of Pac-12 football: claw your way back into games you don't deserve to win, then lose anyway because that's the lot you've been dealt.
So, the scorecard: lose to in-state rival for the first time since you joined the conference; bench your quarterback; miss an extra point and have to go for two just to tie the game; miss another kick; think you're heading to 4th OT but have it overturned on replay. Utah lands below Arizona because of the magnitude of losing to an FCS team, but this is a close race. With a few more games like the SDSU one, Utah could be competing for a chaos conference championship.
9. Washington State
Season to Date: L 23-26 Utah State, W 44-24 Portland State, L 14-45 USC
Washington State is down here because, like Arizona, they were supposed to suck. Their chaos started off the field at Pac-12 media days with coach Nick Rolovich and his opinions on this year's protocols, which is a distraction no matter how you feel about vaccinations. Once play on the field started, we witnessed some classic Couging it. WSU led Utah State 23-11 in the fourth quarter of week 1, but two TDs in the last 7 minutes from Utah State led to a 26-23 defeat for the Cougs. That game also featured a safety, the most chaotic play in football. Rolovich would later say that his QBs checked out of too many running plays, which is funny coming from a team famous for running the Air Raid, even if they don't anymore.
Portland State is a ho-hum game against FCS competition and we've covered the USC game, which was only a moderate surprise because of the silliness happening in Los Angeles. However, Jarrett Guarantano was injured in the Utah State game and backup Jayden de Laura was injured against USC, which forced walk-on Victor Gabalis into action. So that adds a bit more chaotic flair going into the game against Utah, although it sounds as though de Laura might be ready to go.
Scorecard: hire a guy that immediately becomes a distraction to the on-field product; prove that Couging it was not exclusive to Mike Leach; play a walk-on because of injuries. There's a bit of fun potential here, but without the pure variance of the Air Raid, WSU looks to be in a bit of a chaos doldrum.
10. Oregon
Season to Date: W 31-24 Fresno State, W 35-28 Ohio State, W 48-7 Stony Brook
Oregon hasn't been particularly chaotic apart from beating Ohio State, which is what keeps them out of the bottom two. In retrospect, the fact that they avoided being trampled by Jake Haener is a testament to how well-constructed Oregon is compared to the other teams in the conference. They had a 21-6 lead in that game, let it slip to 24-24, then an Anthony Brown keeper sealed it for the Ducks.
With no Kayvon Thibodeaux or Justin Flowe thanks to injuries, it was easy to write Oregon off against Ohio State, even though the Buckeyes had some trouble with Minnesota the week before. After all, Pac-12 teams book these games all the time and rarely win them. We over-rank the better teams in the conference, send them to the altar to be sacrificed by Midwestern and Southern squads, then head back over the mountains where only locals and degenerates follow the daily ins and outs. But this time, CJ Verdell exposed the Buckeyes the same way Mo Ibrahim had the week before, CJ Stroud looked like someone in his second career start, and Oregon marched out of Columbus victorious.
By this point, the Ducks are #3 in the country, which they'll probably take over being one of the most chaotic teams in their own conference. After all, they're the only undefeated team left standing in the Pac-12. And perhaps that's a kind of chaos on its own: in a league full of unserious programs losing to FCS squads, benching QBs, firing coaches, be the only one competent enough to get in and get out without incident every week. But it's not as compelling from a ridiculousness perspective.
Scorecard: blow a lead to local assassins Fresno State; make every Ohioan tweet about firing defensive coordinator Kerry Coombs; be the only consistently competent team in a league full of charlatans. Godspeed, Ducks.
11. Arizona State
Season to Date: W 41-14 Southern Utah, W 37-10 UNLV, L 17-27 BYU
Arizona State is the epitome of being a Power 5 program without really being a Power 5 program. Finish 2020 strong to maintain reasonable doubt that you're a good team, start 2021 ranked. Play an FCS cupcake and don't mess it up. Play UNLV, who lost to Eastern Washington and got sent into the stratosphere by Iowa State after playing the Sun Devils, and don't mess that up. Play BYU, who by this game has beaten 2 other Pac-12 teams and is ranked, in the classic Pac-12 After Dark timeslot. Turn the ball over 4 times, including a tomahawk chop forced fumble by a running back during an interception return. Lose by 10 and go back to being unranked.
I have little doubt in my mind that ASU will go on a winning streak in conference play and get a number next to their names again by the end of the season. It's probably a coin flip whether they're ranked to start next season because QB Jayden Daniels might declare for the draft. But it's not really chaos; it's just being a Pac-12 championship contender. The chaos won't drop until the NCAA investigation gets really moving.
Scorecard: score three touchdowns in seven minutes to extend a 14-10 lead and erase doubt against UNLV; be on the wrong side of a highlight thanks to Tyler Allgeier; get iced by Baylor Romney, who is incredibly only distantly related to Mitt. Gonna need some true wackiness from the Sun Devils for them to move up.
12. Oregon State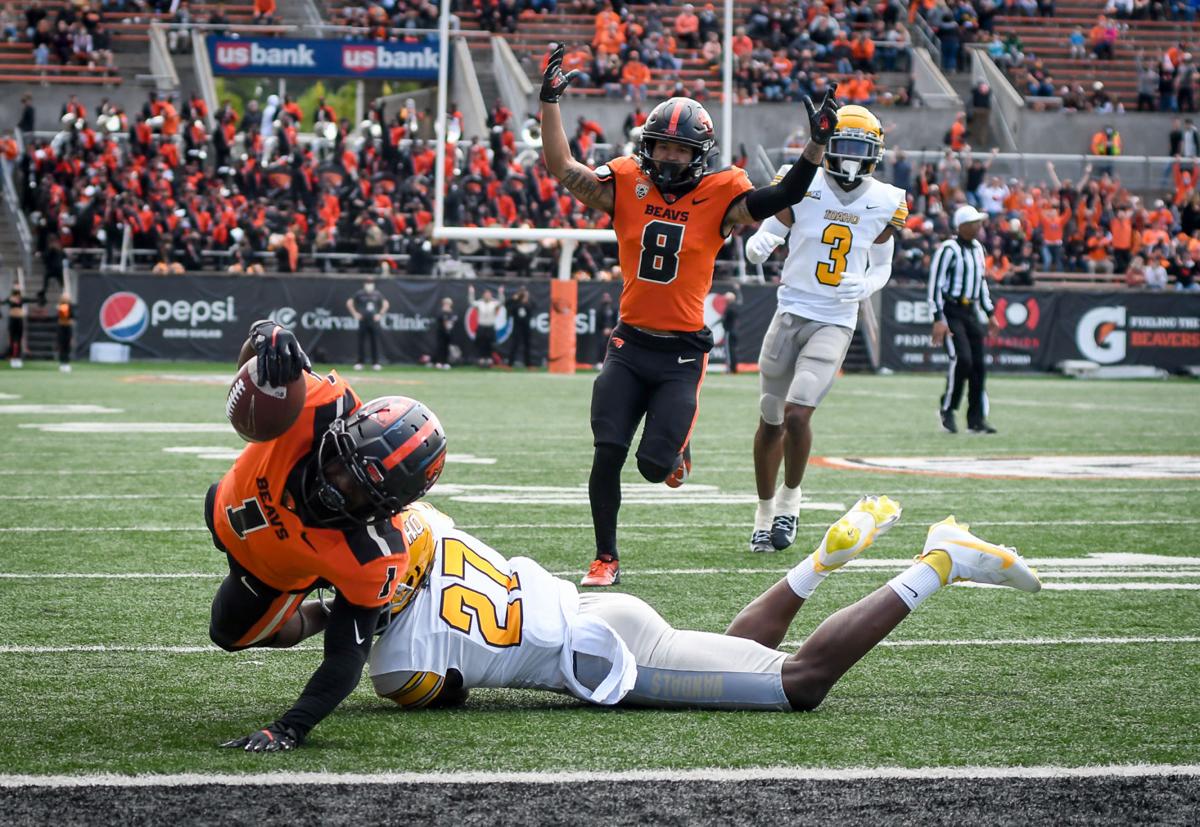 Season to Date: L 21-30 Purdue, W 45-27 Hawaii, W 42-0 Idaho
I tend to think Oregon State are the Detroit Lions of college football, or at least the Pac-12. They kind of exist in a vacuum, I don't think about them very much, and when they show up on my television they're always pretty mediocre, no matter what year it is or who they're playing. This is my way of saying I haven't seen a single Oregon State game yet this year. I can't even tell you an approximate time of day they were on or what channel it was. I had to look up their schedule for this article.
Oregon State's three games have covered the spread all three times. Purdue was favored by 7. Hawaii was an 11 point underdog, Idaho 29 points. The Beavers are humming along, somehow maintaining the status quo in an alternate realm of football from the rest of the teams in their conference. If they bribe Vegas to favor them in every game for the rest of the year, they'll probably run the table.
Scorecard: they've played 3 QBs, I guess? The Beavers are your friend from college that settled down and moved to the suburbs wayyyy before any of the rest of you. They have a dog and talk about their lawn, or their garden, or whatever, while you sit in the only chair in your apartment and watch the TV you have resting on the floor. Wear some funky uniforms or something at least, man.
Parting Shots
From both a competitive and chaotic perspective, the Pac-12 should at least consider adding Fresno State and SDSU. BYU already took an invite to head to the Big XII, otherwise I'd say they should go after them too. They won't look into any of them, of course, for a myriad of reasons. But they should. Fresno State is 1-1 against Pac-12 competition this year, SDSU 2-0, BYU 3-0. They can't be worse than Arizona, and they can't be less chaotic than Oregon State.
(For the unaware, the Pac-12 will never add any of these schools unless new commissioner George Kliavkoff makes massive changes, forced or otherwise. BYU's religious affiliation doesn't align with the values of the other member institutions, which are all public schools except Stanford and USC, neither of which have affiliations beyond being rich. Also, BYU is signed to the Big XII and will join in 2023. Fresno State and SDSU are Cal State universities, which UCLA and Cal will veto until the end of time to maintain some sort of superiority as the UC system schools, which are generally considered better academically. All Pac-12 schools are also in the same research coalition, which is also the reason Boise State will not join the conference anytime soon.)
The Pac-12 is a football vortex. There's not really any reason these teams shouldn't be better: California is gushing with high school football talent, lagging behind only Texas and Florida most years. Pac-12 schools should theoretically have the inside track on Hawaiian recruits, of which there are increasingly many capable of making an impact. Arizona has produced high-caliber QB recruits in recent years, most notably Oklahoma's Spencer Rattler. But instead, year in and year out, the conference eats itself alive, an ouroboros whose eternal cycle is producing the 12th best team in college football. Life, death, rebirth, going 9-3 and losing the Rose Bowl.
They are 18-18 as a conference this year, but 2-9 in one possession games. Both wins are Oregon's.
Pac-12 After Dark has folded in on itself, becoming a funhouse mirror version of the sport the member institutions claim to play. You wonder how UCLA ended up ranked 19th this season as they fumble a punt through their own endzone to give Nevada a 16-5 lead. The next week, you look up the scores and see they beat #14 Utah by 27. This is not football. It is a circus. It is the late night comedy show that comes on after the real programming. Taking Pac-12 football seriously, comparing it to the SEC, the Big Ten, is like thinking that Space Jam is a documentary and comparing Bugs Bunny's stats to Kevin Durant's. We are trapped. The Pac-12 is eternal.
Come back next week after Arizona inevitably beats Oregon and we all collectively sigh in the general direction of the Rocky Mountains.
Follow Alex @alexkatson.