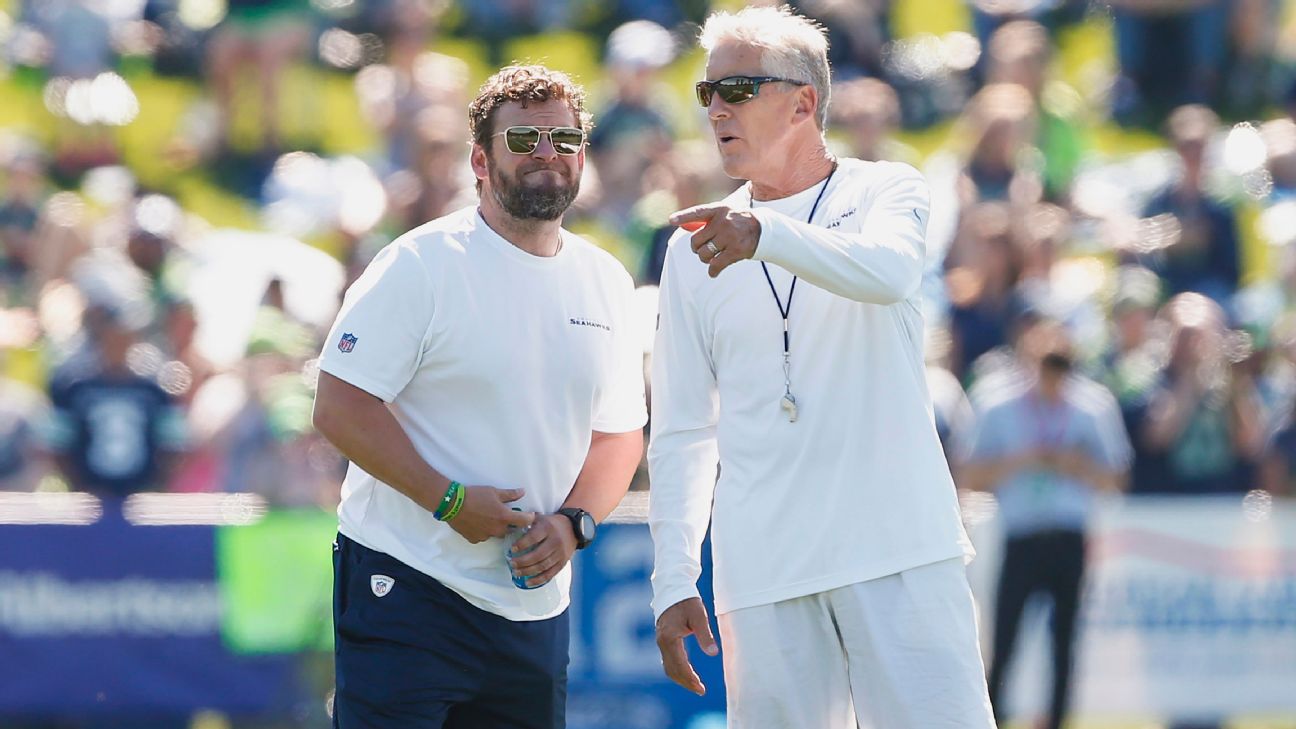 Day 1 of the NFL Draft has come and gone and it was a night that more than lived up to the hype. As we get ready to begin Day 2, I've decided to take a look at mapping out what the remainder of the draft could look like for the team entering it with the least draft capital in the league: the Seattle Seahawks.
Without further ado, here's a look at how Seattle could play the board as they enter the night with just three total selections:
Round 3, Pick 65 (from Jacksonville) – Jabril Cox (LB, LSU)
When all is said and done, I think Seattle walks away from this draft with either 5 or 6 picks and then hit the UDFA market hard, as usual. Jacksonville is a nice trade partner and they move from number 56 to 65 and pick up the Jags' fourth-rounder (pick #130) in the process.
With KJ Wright yet to re-sign with the club, I could see them adding his potential replacement at linebacker if he were to leave in free agency. Cox is the best coverage linebacker in the class and Seattle should have plenty of intel on the former North Dakota State transfer from one-time Carroll staffer, Ed Orgeron.
I could also see this pick being a cornerback, depending on how the board falls. I have a hunch the team loves Stanford's Paulson Adebo but he could be gone at this stage. If linebacker is addressed later in the draft, look for North Carolina's Chazz Surratt to be in play.
Round 4, Pick 129 – Jaelon Darden (WR, North Texas)
This pick should certainly make Russell Wilson happy. Darden may not wow you getting off the bus with his size but certainly wows you on the field, as evidenced by his 19 (!) touchdowns last season for the Mean Green. His remarkable speed and ability to make people miss after the catch should help stretch the field both vertically and horizontally in Shane Waldron's new offensive scheme.
Last year, I was zeroed in on Miami's Deejay Dallas as a great fit for the Seahawks and I'm as confident about Darden being the club's target at wideout as I was for the Dallas pick.
Round 4, Pick 139 (from New England) – Tommy Togiai (DT, Ohio State)
Seattle trades down from the pick they got from Jacksonville and picks up an additional sixth-rounder from the Patriots. The lack of depth in this interior defensive line class is well-documented, so this should be the range you see former Buckeye Tommy Togiai come off the board.
Togiai, an Idaho native, is undersized but has plays with outstanding leverage and an unrelenting motor.
Round 6, Pick 188 (from New England) – Drew Dalman (C, Stanford)
The Seahawks could look to give Ethan Pocic competition at center heading into next season and Stanford's Drew Dalman, while undersized, is just the type of player who new offensive coordinator Shane Waldron could have in mind for the position.
Round 7, Pick 250 – Camryn Bynum (CB, Cal)
I think it's certainly a possibility that cornerback is addressed with one of their first several picks (Benjamin St.-Juste, Jason Pinnock) but Bynum looks the part of a Seattle corner from a technique perspective. There are some concerns about his athleticism but Bynum's reliability as a four-year starter and two-time captain should land him somewhere on Day 3.
Other names to watch: Tommy Tremble (TE, Notre Dame), Tylan Wallace (WR, Oklahoma State), Anthony Schwartz (WR, Auburn), Javian Hawkins (RB, Louisville), Alaric Jackson (OT, Iowa), Kendrick Green (OG, Illinois), Divine Deablo (S, Virginia Tech), Gerrid Doaks (RB, Cincinnati)
About the author: Conor Dorney is a writer and comedian originally from Seattle, Washington. He is an alumnus of the Cronkite School of Journalism at Arizona State University. You can follow him on Twitter here so the rest of us don't have to. He currently resides in Phoenix, Arizona with his wife, Jessica, and dog, Luci.