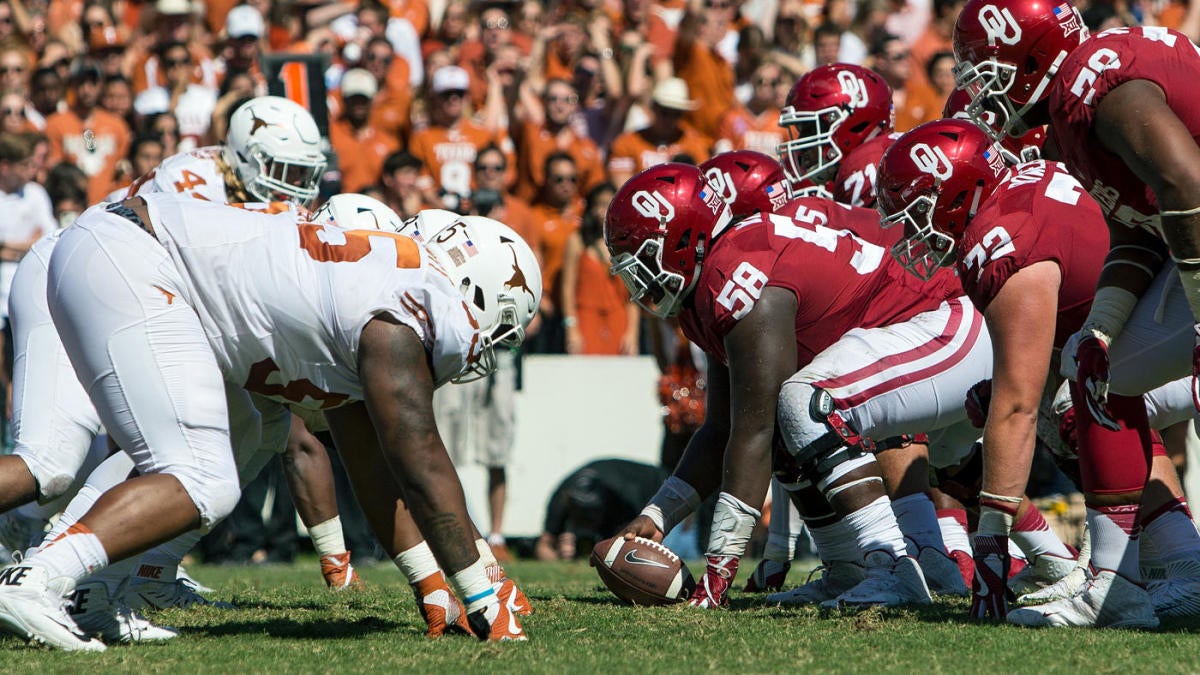 Friday morning brought the biggest realignment news in years, as Big XII founding members Texas and Oklahoma announced they will be leaving the conference. Kansas took action quickly, setting up a call with the Big Ten. So what happens now? Does the Big XII dissolve, its member schools scattered to whichever conferences are willing to take them in? Do they add a few upper-tier Group of 5 schools to keep the conference afloat? Let's take a look at the possibilities.
Scenario 1: Death of the Big XII
This is arguably the most likely. With Texas and Oklahoma certainly gone for the SEC, and Kansas possibly heading north to the Big Ten, the Big XII would be down to 7 teams, an unsustainable number in today's world. That means Oklahoma State, Kansas State, Iowa State, TCU, Texas Tech, West Virginia, and Baylor all could be free agents. So where do they go?
For Iowa State, it makes the most sense to head to the Big Ten. If the conference is adding Kansas, that puts them at 15 member institutions, which they'd probably want to bump to 16 to keep things even. Iowa State has an established rivalry with Iowa and is the furthest north of the member schools remaining. In football, the Cyclones are an up and coming program with Matt Campbell at the helm, so they might not fare as poorly as Kansas, who would really be there to bolster the conference's already strong basketball.
West Virginia should probably head to the ACC. Doing so would allow you to drive through every member state without dipping out of conference territory, which I think is nice. Beyond that, the ACC aligns more closely with West Virginia's identity: mostly a basketball school with a meh football program. (Except Clemson, who are terrible at basketball). The ACC currently has 15 members after adding Louisville in 2014, so West Virginia could join as an orphan without affecting numbers there.
The Pac-12 likely has the most to gain here, but it's unclear how aggressive new commissioner George Kliavkoff will be in pursuing new schools. On the one hand, he said in an interview Thursday that the conference is committed to breaking championship droughts in football and basketball, the latter of which could make Baylor and Texas Tech easy choices. However, the Pac-12 is historically very picky about adding new schools: they have to meet academic standards that the linked interview with Kliavkoff points out only Kansas and Iowa State meet. But let's make things easy for now and assume that the new guy wants to make a big splash and prove that the Pac-12 is here to compete with the big boys. In that case, they'd probably add Baylor, Texas Tech, and TCU, moving them to 15 members. Boise State would be a popular pick for a 16th, especially since they hired a consultant to evaluate their future in the Mountain West, but said consultant pointed out that the Broncos might struggle with revenue sharing, where they currently have a preferred share. Boise State also doesn't meet the academic standards for the Pac-12.
San Diego State, Nevada, UNLV, and Colorado State all have links of varying tenuousness to the Pac-12 from the 2014 expansions, but all have barriers to entry that make things complicated. SDSU would be the conference's 5th Californian institution; UCLA and Cal would likely vote against their inclusion to keep the conference prestigious by avoiding adding a state school. Nevada and UNLV line up with the conference's big presence in Las Vegas, but neither come close to the academic standards needed. Colorado State is the most likely option, but their value to the conference is questionable at best. Honestly, the Pac-12 may be happy with 15 teams, if they even get to that high of a number.
That leaves Oklahoma State and Kansas State, both of whom are a bit tricky to find a home for. Oklahoma State may be stuck heading to the American, which currently has 11 members, but that's likely to be a tough pill to swallow. You'd much rather convince yourself you're on the same level as Oklahoma than be stuck on the same level as Tulsa. But nowhere else really makes sense for them, so that's what I'm going with. Kansas State, on the other hand, should almost definitely move down to Group of 5. Neither their football nor basketball programs are consistently among the upper echelon, but they have the talent and development to make some noise every now and then, making them a classic upper Group of 5 team. They'd be a logical choice for the American if Oklahoma State turns them down, or for the Mountain West if they lose a team to the Pac-12.
So, to recap, if the Big XII dies, I think we end up with the following if every conference involved wants an even number of teams:
Texas and Oklahoma to the SEC
Kansas and Iowa State to the Big Ten
West Virginia to the ACC
Baylor, Texas Tech, TCU, and Colorado State to the Pac-12
Oklahoma State to the American
Kansas State to the Mountain West
Scenario 2a: Power 4 and Group of 6
If the Big XII doesn't fold, its most likely scenario is to become the most competitive of the Group of 5, which would then be the Group of 6. To do that, they'd need 2 or 3 teams, depending on what Kansas is doing. SMU immediately jumps to mind, especially considering their recent successes in football. Memphis is another logical choice. If they need a third team to get back to 10, that's where things get a bit weird.
The Big XII could elect to try to break into the Florida market with a team like UCF, or head north and see if Cincinnati is willing to play ball. Maybe BYU has interest in joining a conference after the tumult of last season (probably not). They could call up Boise State, who reportedly wanted in back in 2015 and 2016. An SEC team could grow disillusioned with the addition of Texas and Oklahoma and effectively make it a trade. If they want to get really weird, they could ask if North Dakota State is ready for the move to FBS. I think the most likely outcome would be Houston, another Texas team likely with aspirations for something bigger.
That brings us back to the American, who would be down to 8 teams but are rumored to be looking into a manifest destiny-themed expansion. Boise State, SDSU, and Colorado State have been the rumored teams, all of whom have the budget to make the travel work, but that would make the conference stretch from Pennsylvania to California with 11 football-playing schools. Technically the conference already does stretch that far, but only for women's rowing. For satellite sports like those, conferences are already more of a suggestion.
BYU and North Dakota State would be contenders to join the American also, which would make more sense from a travel perspective. But again, I doubt BYU really wants to join a conference, and if they do, it'd probably be back to the Mountain West. North Dakota State doesn't seem to quite have the finances to move up: their budget last year was roughly $6 million, which pales in comparison to pretty much any FBS team. So let's assume Boise State and SDSU make the jump to the American, giving them 10 teams. The Mountain West would be down to 10 football schools, but reportedly were trying as early as 2018 to get Gonzaga to join for everything but football. This is important because the same report indicated BYU might be interested in returning, at least for non-football, if Gonzaga joined the party. So, let's assume desperation sets in after the conference loses two of their biggest football programs (and one of their biggest basketball ones). They shell out the money for Gonzaga to come over and give BYU an offer they can't refuse.
To recap:
SMU, Memphis, and Houston to the Big XII
Boise State and SDSU to the American
Gonzaga (non-football) and BYU to the Mountain West
Scenario 2b: Return of the Big 8
This is essentially the same as above, but it assumes that the Big XII takes only one of SMU, Memphis, or Houston. Probably SMU. The American still has 10 teams but probably expands anyway to try to keep up with the competition, and everything else remains the same with Memphis and Houston still in the American.
Scenario 3: Outright Chaos
This doesn't have as much to do with the Big XII specifically, but is more about this tweet that the Big Ten has reached out to USC about potentially joining. This would require a few other teams from the Pac-12 to jump ship with them to ease travel burdens, likely some combination of UCLA, Washington, Oregon, and/or Stanford. With Kansas heading to the Big Ten, adding all 5 Pac-12 schools would bring the number in the Big Ten to a whopping 20, so it's unlikely Iowa State would also make that move. Instead, the gutted remains of the Big XII and Pac-12 would likely join forces in some capacity: a league of Washington State, Oregon State, Cal, Utah, Colorado, Arizona, Arizona State, Baylor, Texas Tech, TCU, Iowa State, and Oklahoma State is a nice 12-team start. It leaves West Virginia and Kansas State on the outside looking in, but don't worry, there's a plan for them.
West Virginia should be in the ACC anyway, so kick them over there. Kansas State is a bit trickier, but the 12-team league I've just laid out would likely sound appealing to Boise State, who seems ready to leave the Mountain West for just about anyone. They'd still be on the lower end of revenue and budget, but adding the two PNW state schools balances it out a tiny bit. BYU could also be interested as a rather central team geographically, bringing our new conference to 14 teams. With an opening in the Mountain West, they gobble up Kansas State, and all is well.
Recap:
Kansas, USC, UCLA, Washington, Oregon, and Stanford to the Big Ten
Pac-12 and Big XII merge
West Virginia to the ACC
Boise State and BYU to the Pac-12/Big XII merged conference
Kansas State to the Mountain West
Obviously, all of this is little more than fanfiction as things currently stand. All of these things could happen, none of them could happen, something in between could happen. For all we know we'll abolish conferences altogether and everyone will pick 12 teams out of a hat to form their schedule every year. It's the wild west out there. But hey, that's what makes life fun, right?
Follow Alex on Twitter @alexkatson.