Mock drafts, while a very silly way to pass the time, are pretty hard. I'm of the belief that nobody is going to ever correctly predict the entire first round. Josh Norris of Underdog Fantasy set a new record for accuracy this year and got 16 player-to-team fits correct. That's right, the most accurate mock draft ever correctly put half of the first round on the correct team. Part of this is because of the way mock drafters operate, I think. Generally speaking, we look at a board of two to three hundred players that we've graded in a vacuum; at least, I do. We don't have access to medicals, interviews, immensely detailed background reports, or former coaches the way teams do. Teams also take scheme and culture into account. It all leads to a content machine that virtually nobody is good at.
Well, I want to get better. And in pursuit of getting better, I'm going team by team and reviewing what I got right and, more importantly, what I got wrong, in the 7 round mock draft I did with Josh Berg the week of the draft. This was my second year scouting, so I know I've got a lot left to learn before I'm going to be even remotely comfortable being called an "expert". Even so, it feels disingenuous to barrel forward into 2022 without first reviewing 2021.
Today's team: the Buffalo Bills.
Previous Articles: Arizona, Atlanta, Baltimore
Draft Class Comparison
Our Draft
1.30 Jaelan Phillips, EDGE, Miami
2.61 Aaron Robinson, CB, UCF
3.93 Amon-Ra St. Brown, WR, USC
5.161 Marvin Wilson, IDL, Florida State
5.174 Chuba Hubbard, RB, Oklahoma State
6.213 Matt Bushman, TE, BYU
7.236 Antonio Phillips, CB, Ball State
Actual Draft
1.30 Gregory Rousseau, EDGE, Miami
2.61 Carlos Basham Jr., EDGE, Wake Forest
3.93 Spencer Brown, OT, Northern Iowa
5.161 Tommy Doyle, OT, Miami (OH)
6.203 Marquez Stevenson, WR, Houston
6.212 Damar Hamlin, S, Pitt
6.213 Rachad Wildgoose Jr., CB, Wisconsin
7.236 Jack Anderson, IOL, Texas Tech
1.30: Gregory Rousseau, EDGE, Miami
Mocked at 2.34 (+4 pick difference)
Why We Picked Phillips: Phillips got this far because we thought his injury history could push him down the board, possibly on into the second round. However, GM Brandon Beane was clear that their first round pick would be a long term move. With two pass rushers on the wrong side of 30, that hint made it seem as though Buffalo would take Phillips even with the injury concerns.
Why They Didn't Pick Phillips: Phillips wound up going 18th overall to Miami, who seemed comfortable swallowing those injury concerns. Considering he was our EDGE1 based strictly off film grade, that landing spot aligns more closely with our evaluation.
Why We Didn't Pick Rousseau: With only one year of tape to work with, it was difficult to get a handle on where exactly Rousseau's best fit would be long-term. We had him pegged as a potential 3-4 DE candidate rather than keeping him strictly on the outside. Since the Bills run a 4-3, we passed over him in search of better fits for both player and team.
Why They Picked Rousseau: The athletic traits are obvious and his instincts are those of a much more seasoned player. Yes, he only had one year of tape, but he put up 15.5 sacks in that one year, second only to Chase Young. While his impact will wax and wane in the NFL as he tightens up his technique, Buffalo can afford to bring him along slowly as their long-term solution.
2.61: Carlos Basham Jr., EDGE, Wake Forest
Mocked at 3.69 (+8 pick difference)
Why We Picked Robinson: Buffalo's slot corner play was some of the worst in the league in 2020 and the end of the second seemed like the time to grab one of the premier ones in this draft class. With few other holes on a roster built to contend right now, it seemed like a perfect marriage of need and value.
Why They Didn't Pick Robinson: Evidently, Buffalo is comfortable with the group they have. They didn't make a move for a slot corner at the trade deadline, when it was rumored they might, and haven't added a single player in the secondary through free agency. Both Robinson and our preferred slot corner Elijah Molden wound up as third rounders, so perhaps we've overvalued the importance of a slot-only corner.
Why We Didn't Pick Basham: We had already picked Phillips and didn't anticipate needing another pass rusher with 2020 second round pick AJ Epenesa looming on the other side. It seemed like an area they might address with a late round pick or a middle rounder next year to add depth, not somewhere they'd double dip in the first two rounds.
Why They Picked Basham: They weren't kidding about drafting for the long term. We mentioned that Buffalo has two aging pass rushers, not just one, so essentially the move to draft Basham after already drafting Rousseau makes it a one-to-one swap. In the short term, a five man rotation on the edge will keep players fresh and hopefully engender larger impacts. In the long term, the three young guns could make for a trio pushing for the league's best if they all pan out.
3.93: Spencer Brown, OT, Northern Iowa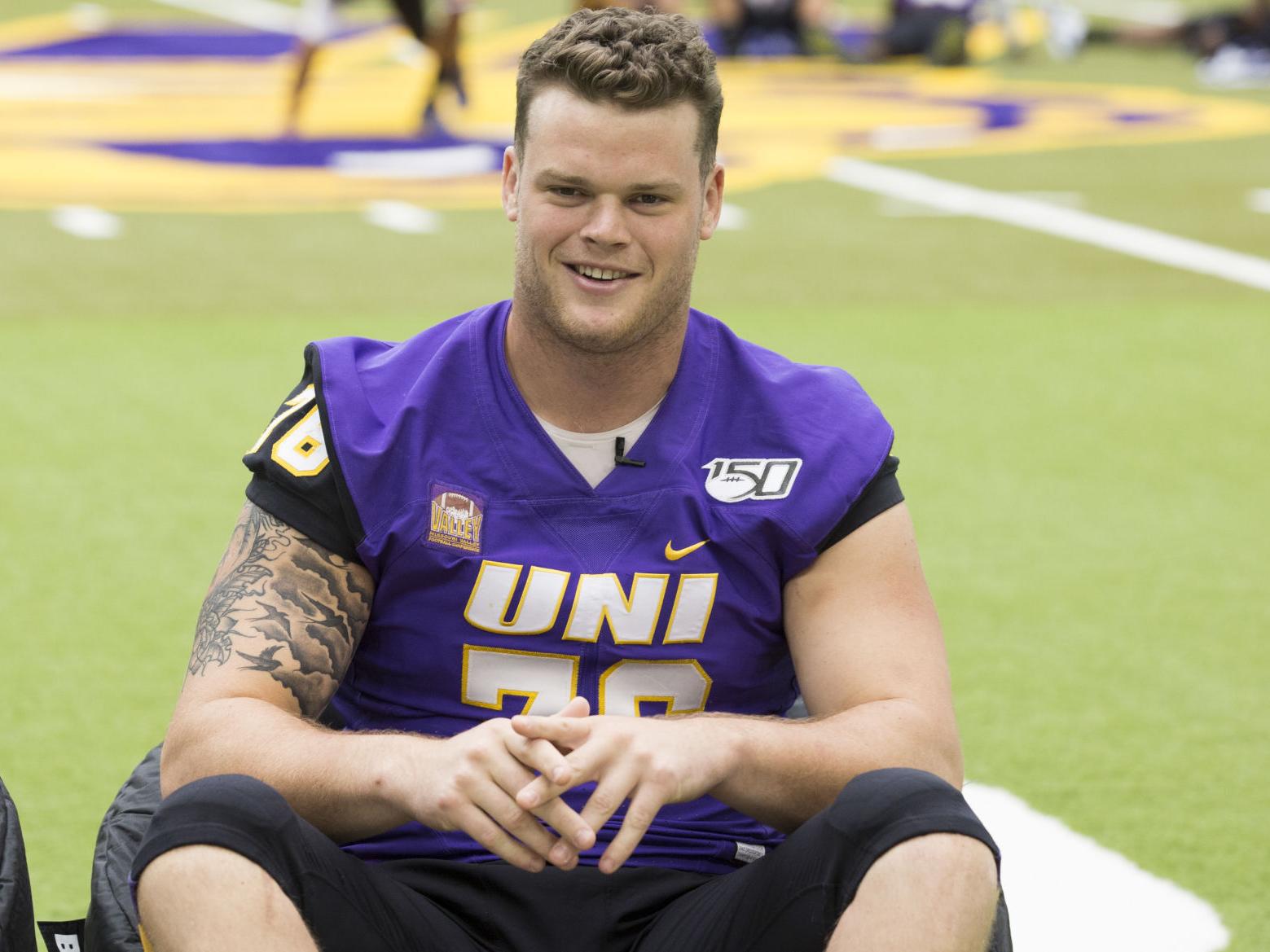 Mocked at 3.79 (-14 pick difference)
Why We Picked St. Brown: We wanted to get another receiver to complement Stefon Diggs, considering we're not particularly high on the players Buffalo has. St. Brown profiled as someone who could play inside or outside, giving the Bills flexibility to swap him, Cole Beasley, and Gabe Davis around to show some different looks to defenses.
Why They Didn't Pick St. Brown: Buffalo seems to love Beasley and he just got an All-Pro vote, regardless of how odd it may have seemed. Davis has sky high potential as the outside receiver opposite Diggs. What they're really missing is a downfield presence, like what they got from John Brown before injuries took their toll and he was released. St. Brown is not that player.
Why We Didn't Pick Brown: Tackle really was not a consideration for us when mocking for Buffalo. Dion Dawkins is under contract for 4 years and is 26, Daryl Williams has 3 years and is 28, and Cody Ford has 2 years and is just 24. Ford has been playing mostly at guard, but even so, drafting a tackle seemed like an extremely long term play.
Why They Picked Brown: Theoretically speaking, Buffalo could have a starting spot at tackle open up relatively soon. Williams has an out in his contract after two years and it's really not prohibitive to cut him after next year if he plays poorly or Brown develops quickly. As a developmental project, Brown is about as good as it gets.
5.161: Tommy Doyle, OT, Miami (OH)
Mocked at 4.131 (-30 pick difference)
Why We Picked Wilson: We wanted to give Buffalo an interior run defender to allow Ed Oliver to focus more on rushing the passer. Vernon Butler's contract expires after 2021 and he already took a pay cut to avoid being released this offseason, so the likelihood that he returns seems low.
Why They Didn't Pick Wilson: There's a lot to unpack with Wilson, between two season-ending injuries, weight issues in 2020, and an overall mess of a program at Florida State during his time there. It's hard to pick through what's a discipline issue and what was a program issue, especially as an outsider. Wilson wound up undrafted, suggesting that perhaps teams are not particularly confident they can extract consistent impact out of him.
Why We Didn't Pick Doyle: Again, tackle was not something we considered very strongly for Buffalo, nor did we think Doyle would make it far enough for Buffalo to have a chance at him. He has a somewhat similar profile to Brown, in the sense that he's really big and very athletic. To us, that seemed like a player someone would take a chance on much earlier on Day 3.
Why They Picked Doyle: Looking at the Bills depth chart via ESPN, there's really no depth at tackle. Buffalo signed Bobby Hart to a one year deal, but that now seems like it was a hedge in case they couldn't snag a tackle or two they liked in the draft. If Brown and Doyle hit their ceilings, however, Buffalo could have their tackle duo locked in for the foreseeable future.
6.203: Marquez Stevenson, WR, Houston
Mocked at 6.207 (+4 pick difference)
Through a series of trades, Buffalo turned 5.174 into 6.203 and 6.212.
Why We Didn't Pick Stevenson: Since we had already taken one wide receiver, another one felt unnecessary in a room with pretty solid depth. His defining trait is speed, but much of the rest of his game leaves some to be desired, which is what kept him from climbing out of the sixth round in our mock. Without a pick in this range originally, Buffalo never registered as a destination for him.
Why They Picked Stevenson: We talked earlier about how what the Bills are missing is speed at the receiver position, and Stevenson provides that. He's also a plus return man, a position in flux in Buffalo. That'll be especially true if Stevenson's receiver skills push Brandon Powell or Isaiah McKenzie off the roster, as both shared return duties last year.
6.212: Damar Hamlin, S, Pitt
Mocked at 7.256 (+44 pick difference)
Why We Didn't Pick Hamlin: He's a safety in a corner's body, which tracks considering he came to Pitt as a corner. It doesn't lend itself well to run support, though, where his strength issues glare. Hamlin is also a bit overaggressive, which I don't knock too much. It's easier to dial someone back than get them to dial in.
Why They Picked Hamlin: Hamlin has great feel for the game, as evidenced by Pitt's willingness to move him around the field to leverage matchups they liked. That makes him a valuable depth piece who can fill in at either safety spot if needed. Despite not having a ton of experience on special teams, Hamlin's skillset lends itself well to that of a potential standout.
6.213: Rachad Wildgoose Jr., CB, Wisconsin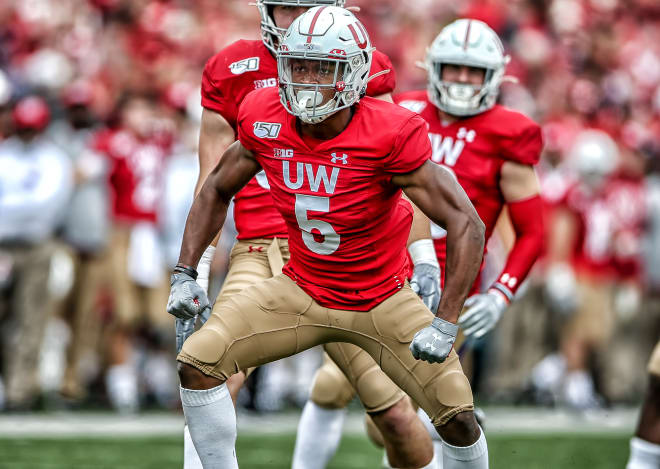 Mocked as UDFA (+47 pick difference)
Why We Picked Bushman: Buffalo seemed like they were in the market for a new tight end after reports surfaced that they had sniffed around a Zach Ertz trade. We considered spending a higher pick on a tight end, but at every turn found that the quality options had been taken just a few picks before. So we settled for Bushman, who led BYU in receiving from 2017-19 and has the blocking skills to stick in the NFL.
Why They Didn't Pick Bushman: He's old, like turns-26-in-November old. He's a little over a year younger than new Bill Mitchell Trubisky, who's about to start his fifth NFL season. A torn Achilles robbed Bushman of his senior season, bringing into question athleticism that already wasn't great for the position. If Buffalo was looking for a difference-maker at tight end, it's no surprise they kept looking.
Why We Didn't Pick Wildgoose: While he has a cool name, Wildgoose profiled as a college JAG. Average size, ordinary speed, milquetoast strength, needs development to be…anything, really. He was equally meh on the inside or outside and didn't seem like a consistent enough tackler to make a difference on special teams.
Why They Picked Wildgoose: Buffalo can afford to take the time to develop players. Slot corner is a need for them now, yes, but if they continue down this path it'll still be a need in the future too. At that point, why not groom Wildgoose to take it over? He's aggressive enough to produce there if he can shore up some of his tackling issues.
7.236: Jack Anderson, IOL, Texas Tech
Mocked at 7.230 (-6 pick difference)
Why We Picked Phillips: Despite not being able to work out at his pro day due to a nagging injury, Phillips picked up buzz as a potential mid to late round pick in the month leading up to the draft. This late in the draft, especially because we stopped doing trades in the 4th, it became more about putting players that we thought would get drafted and less about matching them to specific teams.
Why They Didn't Pick Phillips: A lot of Phillips' value, at least early in his career, is going to be on special teams, where physical traits don't seem to matter as much as competitive toughness. Special teamers tend not to get drafted unless you know they're going to make a huge impact or offer some other value. Avery Williams is an incredible special teamer but also could compete for returner reps, for example. With Phillips, the additional value is positional flexibility, but the Bills already got that with Hamlin and Wildgoose the two picks before this.
Why We Didn't Pick Anderson: Every year, it feels like there's a team that goes in a completely different direction than we thought they would. Buffalo is certainly a contender for that so far in this series, considering we didn't mock them a single lineman and they took three.
Why They Picked Anderson: He's an aggressive run blocker, which may eventually translate into better production from the stable of backs Buffalo currently has. That's assuming he sees the field, but Buffalo is likely drafting him as the first or second man off the bench if an interior starter goes down. Anderson has guard/center flexibility, suiting him well for that role.
Scoring
We want this as close to zero as possible for the purposes of the mock performing well, but a lower score also means that the team had a draft with at least some players that Josh and I liked (or just overvalued).
Rousseau (+4), Basham (+8), Brown (-14), Doyle (-30), Stevenson (+4), Hamlin (+44), Wildgoose (+47*), Anderson (-6) = 57
*Players who we mocked as undrafted will all be given a score as if we mocked them as the 260th pick.
Most accurate evaluations so far! Rousseau, Basham, Stevenson, and Anderson were all within 10 picks, which we've decided is the reasonable margin for error when accounting for team fits. We overvalued Brown and Doyle because of size/athleticism combos, but ignored a lack of 2020 tape for Brown and non-major school status for both. Hamlin and Wildgoose are the biggest misses, as both were passed over for players who we'd seen get buzz in the weeks leading up to the draft.
Takeaways
Don't be afraid to double dip. With the exception of the Ravens and their three EDGE picks we mocked, we were generally pretty hesitant to double up on position groups. Yet Buffalo went back-to-back with two pass rushers, then back-to-back with two tackles, then later doubled up in the secondary with consecutive picks. It's like bubbling in C four times in a row on a multiple choice test. It feels wrong, but if it's the right answer then it's the right answer.
Listen to Brandon Beane? Beane said two things that stuck in my memory leading up to the draft. One is that their first rounder would be a long term move, which I've mentioned earlier in this article. The other is that despite fan chatter, Beane said they were comfortable with their RB room and anyone they drafted would have to have something different, like home-run ability. Both ended up coming true: first rounder Rousseau is there to ease the transition away from Jerry Hughes and Mario Addison and the Bills did not add a RB. To be fair, Travis Etienne did say that he thought Buffalo was going to pick him instead of Rousseau, but he was off the board by the time the Bills were up.
Keep player archetype in mind. We gave the Bills a receiver to round out their room (Amon-Ra St. Brown), which Buffalo ended up doing by selecting Marquez Stevenson. I already made this point when talking about Stevenson above, but the real-life pick makes much more sense because of the way Stevenson's play style adds to what Buffalo already has. It's similar to how Beane said a new RB would have to have a different skillset than what the Bills already have in the room.
Follow Alex @alexkatson.