Mock drafts, while a very silly way to pass the time, are pretty hard. I'm of the belief that nobody is going to ever correctly predict the entire first round. Josh Norris of Underdog Fantasy set a new record for accuracy this year and got 16 player-to-team fits correct. That's right, the most accurate mock draft ever correctly put half of the first round on the correct team. Part of this is because of the way mock drafters operate, I think. Generally speaking, we look at a board of two to three hundred players that we've graded in a vacuum; at least, I do. We don't have access to medicals, interviews, immensely detailed background reports, or former coaches the way teams do. Teams also take scheme and culture into account. It all leads to a content machine that virtually nobody is good at.
Well, I want to get better. And in pursuit of getting better, I'm going team by team and reviewing what I got right and, more importantly, what I got wrong, in the 7 round mock draft I did with Josh Berg the week of the draft. This was my second year scouting, so I know I've got a lot left to learn before I'm going to be even remotely comfortable being called an "expert". Even so, it feels disingenuous to barrel forward into 2022 without first reviewing 2021.
Today's team: the Baltimore Ravens.
Previous Articles: Arizona, Atlanta
Draft Class Comparison
Our Draft
1.27 Azeez Ojulari, EDGE, Georgia
1.31 Liam Eichenberg, OT, Notre Dame
3.94 Amari Rodgers, WR, Clemson
3.104 Seth Williams, WR, Auburn
4.131 Tommy Doyle, OT, Miami (OH)
4.136 Cam Sample, EDGE, Tulane
5.171 Demetric Felton, RB/WR, UCLA
5.184 Tarron Jackson, EDGE, Coastal Carolina
6.210 William Sherman, OT/G, Colorado
Actual Draft
1.27 Rashod Bateman, WR, Minnesota
1.31 Odafe Oweh, EDGE, Penn State
3.94 Ben Cleveland, IOL, Georgia
3.104 Brandon Stephens, CB, SMU
4.131 Tylan Wallace, WR, Oklahoma State
5.160 Shaun Wade, CB, Ohio State
5.171 Daelin Hayes, EDGE, Notre Dame
5.184 Ben Mason, FB, Michigan
1.27: Rashod Bateman, WR, Minnesota
Mocked at 1.26 (-1 pick difference)
Why We Picked Ojulari: The fact that Baltimore needed an edge rusher was no secret after the departure of Matt Judon in free agency. Ojulari ticked the boxes as a 3-4 EDGE with explosive athleticism and was actually our EDGE1. That said, we knew medicals might drop him down the board a bit after a torn ACL in 2017 caused him to miss the entire 2018 season.
Why They Didn't Pick Ojulari: It turned out the medicals came back worse than we thought they would, as reports indicated a degenerative lower-leg condition that probably caused most teams to steer clear. With 4 other pass rushers on the board at 27, Baltimore likely felt confident that they would be able to get a quality player without the same concerns.
Why We Didn't Pick Bateman: Picks 26 and 27 were always going to be Bateman and Ojulari in our minds, with the assumption that Baltimore would take whoever Cleveland didn't. The Ravens also didn't seem overly eager to spend first round capital on a wide receiver for the second time in three years, and we originally made these picks before the Orlando Brown trade netted them an extra first rounder.
Why They Picked Bateman: Cleveland didn't and they really needed an outside threat since nearly every other receiver on their roster is a small slot-type guy. Miles Boykin has been an underwhelming pro and Sammy Watkins is not a reliable option at this point in his career. Bateman isn't the most explosive or overly creative player, but his routes are crisp and he should profile as a nice complement to the home run ability of Marquise Brown.
1.31: Odafe Oweh, EDGE, Penn State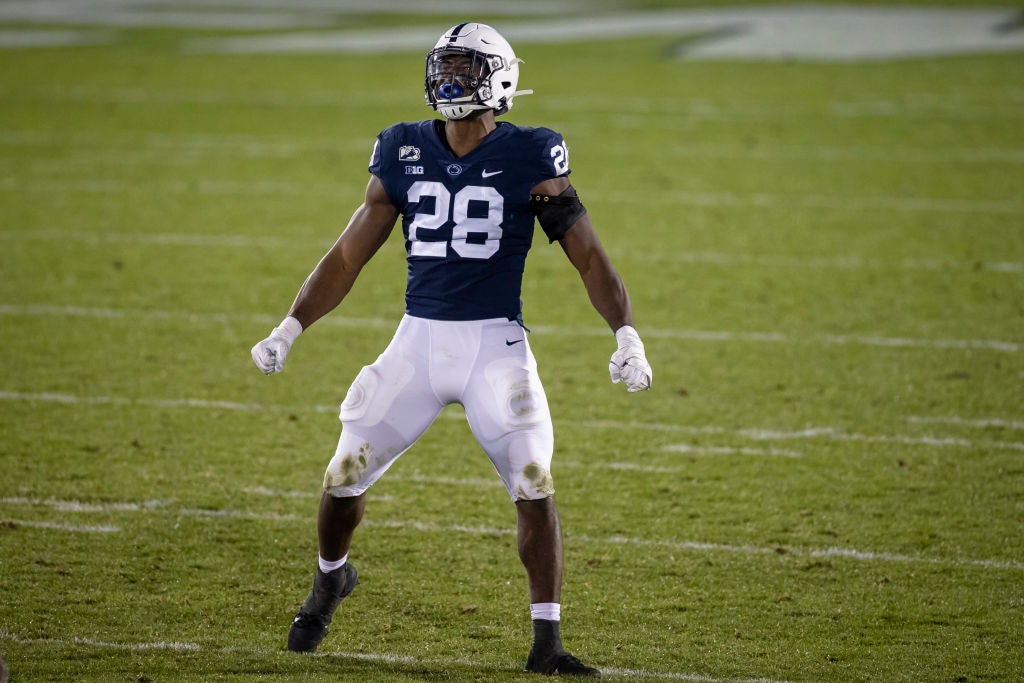 Mocked at 2.40 (+9 pick difference)
Why We Picked Eichenberg: Baltimore ostensibly needed a replacement at right tackle after trading away Orlando Brown, and this seemed like a strong class to acquire that. With Teven Jenkins off the board, our next best pure right tackle was Eichenberg, who we thought had the strength and consistency to stick on the outside as a pro.
Why They Didn't Pick Eichenberg: Baltimore had a handshake agreement with vet Alejandro Villanueva, who was officially signed two days after the draft ended, thereby avoiding the compensatory pick formula. With that in place, there was no reason from their perspective to spend high capital on another tackle, even if fans and analysts are less than convinced of his skill.
Why We Didn't Pick Oweh: We had already addressed EDGE with the Ojulari pick, but besides that, Oweh is a complete projection. With virtually no production in his college career (7 career sacks and none in 2020), you're betting a lot of capital on unlocking his potential. We saw Baltimore as a team that needed a more polished and immediate answer at the position, so we went in a different direction.
Why They Picked Oweh: With Oweh, so much of the potential lies in the fact that he wasn't football-focused until getting to college, where he only spent 3 years. He didn't even start playing football until his junior year of high school. But this is the Ravens we're talking about. Of course they're confident in developing pass rushers. It seems like every year a random player they quietly scooped up turns into a franchise tag or massive contract candidate. I wouldn't be surprised if Oweh is the next in that lineage.
3.94: Ben Cleveland, IOL, Georgia
Mocked at 3.103 (+9 pick difference)
Why We Picked Rodgers: Rodgers' dad is Tee Martin, who is also the Ravens' WR coach. Adding another receiver seemed like a fine idea considering Baltimore didn't really have a ton of other pressing needs. He's built like a slot receiver, yes, but he worked out a bit as a running back and could have been an interesting tool in the Ravens option-like offense.
Why They Didn't Pick Rodgers: We talked a bit about how the Ravens already have a bunch of slot receivers, so some of them are bound to have similar skillsets that would make Rodgers' fit tricky. Devin Duvernay comes to mind as the most immediate example, considering a similar build (5'10", 200 for Duvernay; 5'9", 212 for Rodgers) and play style.
Why We Didn't Pick Cleveland: Guard didn't register to us as a need for Baltimore, primarily because the bigger need seemed to be at center with the departure of Matt Skura. What we hadn't considered was the possibility that starting guard Bradley Bozeman was an option at center, which would leave a hole at guard. Combine that with a lack of versatility and some injury flags and Cleveland missed consideration.
Why They Picked Cleveland: Bozeman seems set to move to center, which is interesting because that didn't seem clear until after this pick was made. A few other interior linemen were on the board, namely Quinn Meinerz, who could play center or guard and would've made the game of musical chairs on the line a bit more complex. Baltimore loves gigantic run-blocking guards and has been largely missing that physical presence since the retirement of Marshal Yanda.
3.104: Brandon Stephens, CB, SMU
Mocked as UDFA (+156 pick difference)
Why We Picked Williams: Since we had taken Rodgers at the pick before this, we were still missing a receiver that could threaten defenses on the outside. Having a receiver you trust on 50-50 balls down the sideline is, in my opinion, a key need for a young quarterback. Williams is exactly the kind of player you can trust with those plays, with excellent play strength and ball skills that got him 2,124 receiving yards playing with Jarrett Stidham and Bo Nix.
Why They Didn't Pick Williams: Williams is a nice 50-50 ball artist, but what else really is he? Separation is often a challenge, he's got average speed for the position, isn't really a true deep threat, plays inconsistently. In a way, putting him on the Ravens would be like giving them Miles Boykin again, and that hasn't really worked out, has it?
Why We Didn't Pick Stephens: We had no idea who he was, to be honest. Stephens played running back for three years at UCLA, redshirting in 2018 before deciding to make the switch to corner. He wound up at hometown SMU, where he led the team in pass deflections and was named a team captain in 2020. He's extremely raw considering he's played corner for only two years, perhaps part of the reason he wasn't on our radar.
Why They Picked Stephens: After doing some research on Stephens, it's easy to see why he's someone a team is willing to bet on. He was the one that made the choice to switch positions, rather than the coaching staff moving him. He won a starting job at SMU in his first year at the position and coaches rave about his football intelligence, according to Dane Brugler's draft guide. Pair a great athlete with a great mind for the game and relentless competitive spirit and you get a player that rarely fails to make an impact.
4.131: Tylan Wallace, WR, Oklahoma State
Mocked at 3.98 (-33 pick difference)
Why We Picked Doyle: The depth behind Ronnie Stanley and our first round pick Liam Eichenberg wasn't stellar and Doyle has the flexibility to play both sides. He's raw, but it's the fourth round, where taking swings on projects is encouraged.
Why They Didn't Pick Doyle: There's a couple of flags on Doyle's profile. For one, level of competition, as the MAC wasn't exactly pumping out premier pass rushers. Then, there's injuries: a torn labrum, a foot issue, a leg injury. He stayed healthy his last two years on campus, but can he continue that in the NFL? There's also issues with balance, which isn't surprising given his 6'8" frame. Very few players that big are able to get their center of gravity low enough to avoid ending up on the ground.
Why We Didn't Pick Wallace: We already hit receiver pretty hard in the earlier rounds so there was no reason to go after him as well. As for why not Wallace instead of Rodgers, we got a bit caught up in Rodgers' dad being on the Ravens coaching staff.
Why They Picked Wallace: With Marquise Brown in the slot and Rashod Bateman as one or your outside receivers, the only question mark along the starting group is on the other boundary. We mentioned Sammy Watkins earlier, but he's not going to move that needle without a career resurgence. Wallace, on the other hand, very well could despite being a touch undersized.
5.160: Shaun Wade, CB, Ohio State
Mocked at 4.112 (-48 pick difference)
Baltimore traded 4.136 and 6.210 to Arizona for 5.160.
Why We Didn't Pick Wade: Corner wasn't really a need we were prioritizing for Baltimore. His 2020 tape on the outside was painful, enough that it distracted from the shine of his tape in the slot in 2019. That said, we also didn't think he would fall as far as he did, as evidenced by the 48 pick difference.
Why They Picked Wade: The value here is really difficult to pass up, especially for a team that needs depth behind Tavon Young. When Young went down with a knee injury in 2020, Baltimore replaced him with Marlon Humphrey, which worked well enough, but I'd rather have him stick on the outside if it were me. Wade is a second round talent if you keep him inside only, making him a possible diamond in the rough in the 5th.
5.171: Daelin Hayes, EDGE, Notre Dame
Mocked at 6.190 (+19 pick difference)
Why We Picked Felton: We were going to fix the skill position groups no matter how many picks it took. Good offenses in the NFL are multiple, with players versatile enough to play a variety of roles convincingly. We thought adding Rodgers and Felton would give the Ravens an almost limitless set of looks to confound opposing defenses.
Why They Didn't Pick Felton: This isn't Madden, although a Madden team with the weapons we gave the Ravens would be pretty sick. Felton ended up falling another 40 picks likely because of some truly abysmal testing numbers. There were also likely some questions about where his home is: he's not really a wide receiver, but is he really a running back, either?
Why We Didn't Pick Hayes: We'd already picked two edge rushers by the time this pick rolled around since we held on to Baltimore's excess fourth rounder. With a history of shoulder problems, the smoothness of his development was also a bit in question.
Why They Picked Hayes: He's a tremendous athlete, especially in the lower half, and if he stays healthy there's very little reason to believe he won't be a solid pro. It's another developmental EDGE for Baltimore, but recently-very-rich Matt Judon was a developmental fifth rounder, too.
5.184: Ben Mason, FB, Michigan
Mocked at 6.186 (+2 pick difference)
Why We Picked Jackson: Yes, we gave Baltimore a third pass rusher, but we were angling for a development project the same way the real life Ravens were with Hayes. Jackson was insanely productive at Coastal Carolina, finishing with 26.5 career sacks, a program record.
Why They Didn't Pick Jackson: He's a 4-3 end and the Ravens run a 3-4. In our defense, Jackson is a bit of a tweener, but he's good enough as a run defender that he'd probably be better as a 3-4 end, which he's not big enough for. With Oweh and Hayes already in the fold, drafting a player with a muddy fit wasn't necessary.
Why We Didn't Pick Mason: He's a fullback and it's the 5th round. Come on. Jokes aside, the Ravens already have a decent fullback in Patrick Ricard and an upgrade at the position seemed like the ultimate luxury pick.
Why They Picked Mason: I'd imagine John Harbaugh probably wants to use Mason the way they used to use Kyle Juszczyk, which is an exceedingly rare player archetype. So, if you see it, go get it. It's the last pick of the fifth round, which is basically the sixth, and the sixth is a somewhat reasonable time to take a fullback if he's really good.
Scoring
We want this as close to zero as possible for the purposes of the mock performing well, but a lower score also means that the team had a draft with at least some players that Josh and I liked (or just overvalued).
Bateman (-1), Oweh (+9), Cleveland (+9), Stephens (+156*), Wallace (-33), Wade (-48), Hayes (+19), Mason (+2) = 113
*Players who we mocked as undrafted will all be given a score as if we mocked them as the 260th pick.
This is by far our most accurate mock of the three we've covered if you ignore the albatross of Stephens. (Without him, we score a -43.) We had pretty accurate evaluations for Bateman, Oweh, Cleveland, and Mason, all of whom fell within 10 picks of our estimation. Hayes went a bit earlier than we thought, possibly because of a Senior Bowl berth. We overvalued Wallace and Wade, Wallace because he's been a favorite of ours for two years and Wade because we thought teams would be more willing to take a chance on him given his standout tape at nickel.
Takeaways
Baltimore likes their seniors. Other than their first two picks, every player Baltimore selected spent at least 4 years in college (Wade was a redshirt junior). This was also true in 2020, save junior Geno Stone, who they took in the seventh round. This could be due to a different strategy for the last few years due to COVID-19, or it could be a persistent pattern in the way they operate. It's something to keep in mind when mocking for the Ravens in the future.
Leave no stones unturned. We didn't have Stephens in our mock because we had never heard of him, even though I had his pro day results charted in the tracker I maintained. He went to SMU, a big enough school that we probably should've known something about him. Dane Brugler of The Athletic had Stephens graded as a fifth rounder. It goes to show that just because nobody on Draft Twitter is talking about a player doesn't mean you can write them off.
Be confident in your evals. I'll be honest, I hated Seth Williams. I thought he struggled to get separation, played with inconsistent motor, and was going to be a red-zone only threat in the NFL. But everyone I talked to or saw talk about him loved him, including some people that had him graded as high as a second round pick. So, in some sense because I wanted to avoid criticism, we slotted him in the end of the third round and called it a day. He ended up being picked towards the end of the sixth, which was much closer to where I had him graded. Just because Draft Twitter is talking about a player doesn't always mean they're going as highly as we'd like.
Follow Alex @alexkatson.