Mock drafts, while a very silly way to pass the time, are pretty hard. I'm of the belief that nobody is going to ever correctly predict the entire first round. Josh Norris of Underdog Fantasy set a new record for accuracy this year and got 16 player-to-team fits correct. That's right, the most accurate mock draft ever correctly put half of the first round on the correct team. Part of this is because of the way mock drafters operate, I think. Generally speaking, we look at a board of two to three hundred players that we've graded in a vacuum; at least, I do. We don't have access to medicals, interviews, immensely detailed background reports, or former coaches the way teams do. Teams also take scheme and culture into account. It all leads to a content machine that virtually nobody is good at.
Well, I want to get better. And in pursuit of getting better, I'm going team by team and reviewing what I got right and, more importantly, what I got wrong, in the 7 round mock draft I did with Josh Berg the week of the draft. This was my second year scouting, so I know I've got a lot left to learn before I'm going to be even remotely comfortable being called an "expert". Even so, it feels disingenuous to barrel forward into 2022 without first reviewing 2021.
Today's team: the Atlanta Falcons.
Previous Articles: Arizona
Draft Class Comparison
Our Draft
1.4 Justin Fields, QB, Ohio State
2.35 Javonte Williams, RB, North Carolina
3.68 Hamsah Nasirildeen, S, Florida State
3.103 Ben Cleveland, IOL, Georgia
5.148 Dayo Odeyingbo, EDGE, Vanderbilt
5.183 Jacob Harris, WR/TE, UCF
6.187 Shemar Jean-Charles, CB, Appalachian State
6.219 Richard LeCounte III, S, Georgia
Actual Draft
1.4 Kyle Pitts, TE, Florida
2.40 Richie Grant, S, UCF
3.68 Jalen Mayfield, OT, Michigan
4.108 Darren Hall, CB, San Diego State
4.114 Drew Dalman, IOL, Stanford
5.148 Ta'Quon Graham, IDL, Texas
5.182 Adetokunbo Ogundeji, EDGE, Notre Dame
5.183 Avery Williams, CB, Boise State
6.187 Frank Darby, WR, Arizona State
1.4: Kyle Pitts, TE, Florida
Mocked at 1.8 (+4 pick difference)
Why We Picked Fields: To be honest with you, this pick was Trey Lance until about 2 hours before publishing, at which point I decided Lance was going to be a 49er. Without much time to reconfigure the whole draft, I swapped 3 and 4 with the knowledge that Atlanta would probably take Pitts if Lance was off the board. Also, our vision of Atlanta's current organization involved an overhaul, starting with a new face at QB as Matt Ryan continues to age.
Why They Didn't Pick Fields: The rumor was always that Atlanta liked Lance a lot, and that if he wasn't available they'd pick Pitts. Why Fields slipped down their board, I'm not sure. Perhaps it's as simple as believing in Ryan, who they restructured and will almost certainly be on the team through at least 2022 at this point. Maybe they think they can still compete, Julio Jones cap snafu aside. It's not a terrible idea, really. New Orleans figures to be weaker following the retirement of Drew Brees, Carolina is still rebuilding, Tampa are the defending champions but father time should come knocking for Brady any day now (right?). In their eyes, all it takes is a little bit of variance and Atlanta could theoretically be division champs.
Why We Didn't Pick Pitts: See above. Good organizations don't end up in the top 5 often and a QB class like this one comes around even less often. I'd much rather grab an heir apparent and sit them for a year or two the way the Packers have done for years than miss out. Pitts is a one of a kind player, don't get me wrong, but someone has to throw him the ball.
Why They Picked Pitts: Well, he might have been the best prospect in the draft, for starters. The argument is Pitts vs Lawrence vs Sewell, and all of them have a pretty good case. Beyond that, this again strikes me as a move for the present, with maybe a glance at the future. With the development of the Jones situation in recent weeks, drafting Pitts as essentially a one-to-one replacement, production-wise, isn't the worst idea.
2.40: Richie Grant, S, UCF
Mocked at 3.67 (+27 pick difference)
Atlanta traded down from 35, sending 35 and 219 to Denver for 40 and 114.
Why We Picked Williams: ESPN has Cordarrelle Patterson listed as Atlanta's backup RB, which is…interesting at best and really bad at worst. Mike Davis and his enormous quads make for a decent RB1, but it wasn't a room we were comfortable with rolling with. Williams was one of the big three prospects at the position, with ample power to be the kind of back Arthur Smith might covet after having Derrick Henry for the last few years.
Why They Didn't Pick Williams: Atlanta seems to be higher on Davis than we were, which is understandable, considering we hadn't seen his quads by the time the mock came out. Williams and Davis are a bit redundant, which would've made a receiving back like Williams' teammate Michael Carter a better pick. But the Falcons seem to also be fine with rolling with Patterson in that role, especially so after hiring former Bears RB coach Charles London as QBs coach this offseason.
Why We Didn't Pick Grant: He's old! The former UCF safety turns 24 in November, compared to June '99 birth Trevon Moehrig and March '00 baby Jevon Holland, who completed the top 3 at the position for us. Prospect age isn't generally a huge consideration for us, because we fall pretty firmly on the film side of the film-analytics debate, but 24 year olds don't tend to get drafted highly unless they're really good. Combine that with the positional value of safety and it just didn't seem right to make him a top 64 pick.
Why They Picked Grant: He's really good. Holland, Moehrig, and Grant all went within 8 picks of one another, so age ended up not being too much of a consideration. Atlanta's safety rotation prior to the draft was a mix of castoffs and unproven young players: Duron Harmon, Erik Harris, Jaylinn Hawkins, TJ Green. It needed a shot in the arm. With young players at corner as well, having a true center field presence like Grant is a must.
3.68: Jalen Mayfield, OT/G, Michigan
Mocked at 3.71 (+3 pick difference)
Why We Picked Nasirildeen: Since we didn't go safety in the second round, we decided to address it a round later with Nasirildeen, who we loved for his versatility. He seemed like a pretty ideal replacement for departed Keanu Neal as a safety/linebacker hybrid type, even if his fit in a base defense came with some question marks.
Why They Didn't Pick Nasirildeen: Nasirildeen fell all the way to the sixth round, likely because his medicals came back a bit pessimistic. The Florida State product tore his ACL late in 2019, then missed 7 games to start 2020 amidst reports that he had reaggravated the injury in rehab. He made his impact felt in the two games he did play, but he continues to rehab the knee, which isn't exactly inspiring for his short term health.
Why We Didn't Pick Mayfield: We were a bit more reluctant about the possibility of immediately moving Mayfield to guard despite noise that it was likely happening, so we focused on looking for a team that had a possible hole at right tackle that could also flex Mayfield to guard if it didn't work out. The Falcons didn't strike us as one of those teams, considering their draft capital investment in Kaleb McGary (who has struggled, in all fairness).
Why They Picked Mayfield: To play guard. After cutting James Carpenter, the only hole that needs semi-immediate attention is at left guard, since Matt Hennessy figures to slide over to center to fill in for departed Alex Mack. The other options coming into the draft were Matt Gono and Josh Andrews, who are the textbook definition of JAGs. So, enter Mayfield, who can compete for the starting role right away. If it doesn't work out right away, you've at least got a sixth lineman that can plug in at a couple different positions if someone gets injured.
4.108: Darren Hall, CB, San Diego State
Mocked at 5.179 (+71 pick difference)
We had Atlanta trading 108 and 182 to the Rams for pick 103.
Why We Picked Cleveland: The offsetting of needs continued into this pick. We went running back in the second, while the real-life Falcons went safety. We picked safety in the third, where the Falcons went offensive line, which we addressed with a trade up into the compensatory picks of the third. Cleveland looks and plays like the Mountain if he was a redneck instead of a viking. We thought he'd be a nice plug at that open guard spot in the new (presumably) run-heavy offense under Arthur Smith in Atlanta.
Why They Didn't Pick Cleveland: He had already gotten picked by Baltimore 9 picks earlier, so drafting him here or at the pick we traded for in the mock was out. That left picking him at 68 (or trading up further from 108), at which point you're using a pretty non-negligible amount of capital to draft a player that's pretty scheme limited.
Why We Didn't Pick Hall: Hall represents an interesting case to me, because I don't recall seeing many people that had him as a high fourth rounder. What strikes me about this is that he was at the Senior Bowl, which means teams had the chance to evaluate him in person, which isn't necessarily true about every player in this cycle. A difference of 71 picks is pretty steep, though, which makes me wonder if we missed something else as well.
Why They Picked Hall: He's a good athlete with above average ball production and press man ability that just needs some technical polishing and to stay healthy. In retrospect, it's easy to see why teams would be willing to take a shot on him, especially a team that has a secondary coach with 40 years of experience like Atlanta does with Jon Hoke. Given their cap situation, they need to find some diamonds in the rough to contribute, and Hall has all the tools to work with.
4.114: Drew Dalman, IOL, Stanford
Mocked at 4.128 (+14 pick difference)
Why We Didn't Pick Dalman: We didn't think the Falcons needed a center because of how high we were on Matt Hennessy a year ago. Hennessy struggled as a rookie, but linemen often seem to be boom or bust as rookies in my (limited) experience. Sticking with him going forward and investing in the position a year from now if he continued to struggle seemed like a more likely outcome to us.
Why They Picked Dalman: You can never have too many linemen, especially when the ones you have aren't performing to expectations. Hennessy could also factor into the left guard competition we mentioned earlier, even though he was arguably worse there than he was at center in 2020. Atlanta also doesn't have an established backup if Hennessy does start, as Josh Andrews is currently listed second on ESPN's depth chart. So either you've got a starting center or a quality backup to push your starter. Seems like a good deal to me.
5.148: Ta'Quon Graham, IDL, Texas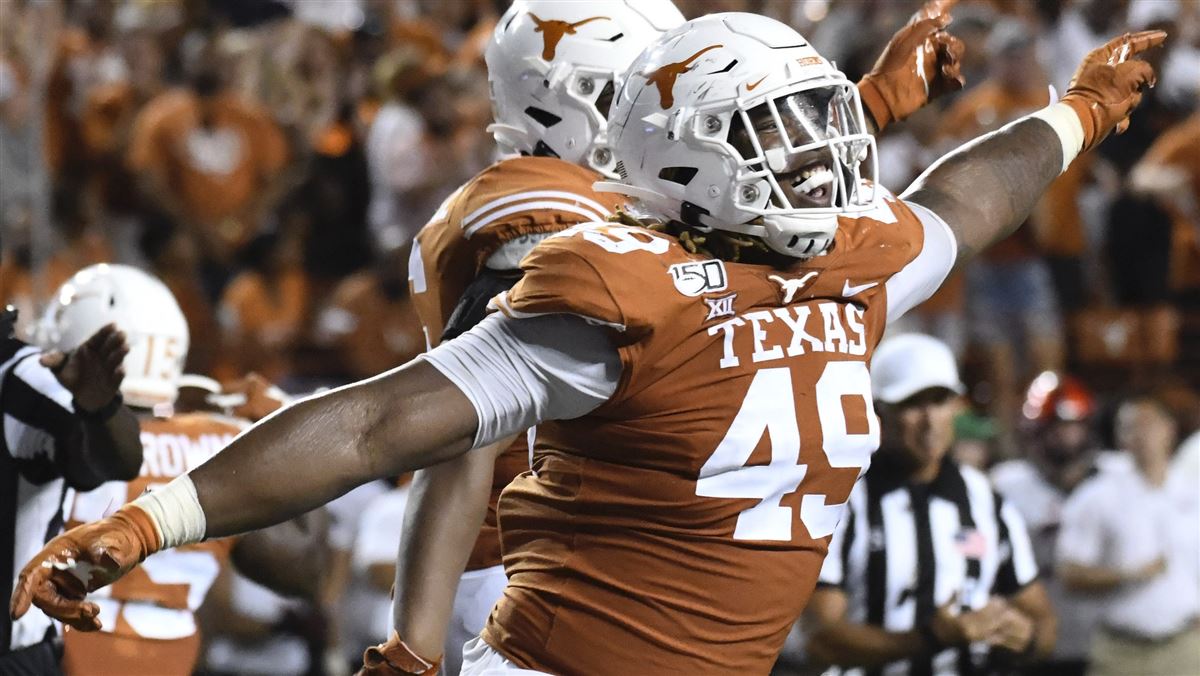 Mocked at 7.235 (+87 pick difference)
Why We Picked Odeyingbo: Atlanta's pass rush continues to confound me to no end. In a way, it's a microcosm of all of Atlanta sports, which similarly melt my brain. It's supposed to be good, they have names, I forget about it for a little while, then I go back and look and it's terrible. Rinse and repeat. Dante Fowler continues to be as forgettable as that time he punched a guy and threw his groceries in a lake. (Seriously, I've never heard anyone except my roommate mention this. Why?) Steven Means is fine but also 30 despite me never having heard of him. Jacob Tuioti-Mariner might be the second-best DE on the roster! He might be the best DE on the roster!
Odeyingbo figured as a draft and stash player given a torn Achilles in January, but his talent was that of a top 100 pick in our estimation. With a rotation like that, Atlanta needs all the talent they can get, and with cap management like that, they need all the value they could get too.
Why They Didn't Pick Odeyingbo: Turns out that players with top 100 talent usually go top 100, season-crushing injuries or not. Odeyingbo was gone by pick 54, which would've meant the Falcons would've had to take him instead of Grant. Considering that Fowler spent most of the year banged up and the emergence of Tuioti-Mariner, that kind of capital seems steep for another edge rusher.
Why We Didn't Pick Graham: Graham's impact came and went while at Texas, even more than is typical for a college defensive lineman. Even when he's on, his impact is moderate, and when he's off, he disappears. Despite coming to college as an edge rusher, he seems to lack a plan when rushing the passer, so playing him on third down is a tough ask.Why They Picked Graham: In the fifth round, you're not necessarily looking for immediate three down players. If you can guarantee that Graham will be on when he's on the field, he's a serviceable subpackage guy. That's growing ever more valuable as teams start to cycle linemen in and out like they're relief pitchers. Graham also physically looks the part. There's a lot to work with if you can dedicate the time to developing it.
5.182: Adetokunbo Ogundeji, EDGE, Notre Dame
Mocked at 5.180 (-2 pick difference)
Why We Didn't Pick Ogundeji: If we hadn't traded this pick in the mock, we still would've taken Odeyingbo with the pick before this, meaning EDGE would have already been addressed. He also struck me as a bit more of a 3-4 DE who could flex outside, and the Falcons are still listed as running a 4-3, which made his fit a little confusing for me.
Why They Picked Ogundeji: Well, Atlanta is probably moving to a 3-4, since they hired Dean Pees as defensive coordinator. So that solves the scheme fit issue. Outside of that, this again feels like betting on traits. Ogundeji is long, fast, and plays with a high motor. This deep into the draft, it's a profile worth betting on.
5.183: Avery Williams, CB, Boise State
Mocked at 6.188 (+5 pick difference)
Why We Picked Harris: With no Kyle Pitts in this situation, TE tumbled down the list of needs given the presence of Hayden Hurst. Harris was a late riser with WR/TE flexibility, which suggested he perhaps(!!!!) could've been utilized in a relatively similar manner as Pitts with much lower return. We've talked a lot about betting on traits and this was yet another example.
Why They Didn't Pick Harris: He was already gone; the Rams picked him 141st overall. With Pitts already in the fold, that's a rock solid TE group (TE3 Lee Smith is a great blocking option).
Why We Didn't Pick Williams: This was an example of forcing a player-team fit we were enamored with. Williams profiled as the best special teamer in the draft, which automatically made him a fit for the Patriots, especially because Matthew Slater is turning 36 in September. Overall, the value was correct, but we overlooked other potential fits to get him to the Patriots.
Why They Picked Williams: Atlanta's coverage units struggled in 2020, including the incredible failure to cover the ball against the Cowboys. Williams is a special teams star, with 9 return touchdowns, five blocks, and a forced fumble on his resume from his time at Boise State. Adding him gives any unit immediate juice.
6.187: Frank Darby, WR, Arizona State
Mocked at 6.185 (-2 pick difference)
Why We Picked Jean-Charles: We hadn't gone corner yet and Atlanta's depth outside the top 4 of AJ Terrell, Kendall Sheffield, Fabian Moreau, and Isaiah Oliver was suspect at best. Even Oliver is a question mark, but he started to play better as a nickel later in the year. Jean-Charles has played both sides of the field on the outside and led the FBS in passes defended in 2020 thanks to plus anticipation and instincts.
Why They Didn't Pick Jean-Charles: Continuing with the theme of the day, he was gone! Green Bay took him at 178th overall. As far as Hall vs Jean-Charles, Hall has a little bit more flexibility as a possible safety and got the in-person evaluation we talked about earlier. Jean-Charles isn't a blow-your-mind athlete, rather, the mental aspect of his game is what sticks out. Atlanta seemed to value more athletic project types in this draft.
Why We Didn't Pick Darby: Our evaluation was pretty spot on, considering we had Darby off the board 2 picks before he actually went. Honestly, without the infectious energy and passion for the game that was so obvious at the Senior Bowl, I think Darby would've gone undrafted. He doesn't have a lot of production after playing behind N'Keal Harry and Brandon Aiyuk, nor is he an incredible athlete.
Why They Picked Darby: A lot of new regimes place an emphasis on establishing their culture, especially because most new regimes are starting complete teardowns. Think Miami when Brian Flores was hired, for example. Having those core guys you can count on to lead is important in NFL locker rooms, and Darby fits that bill. He also gives the Falcons a true deep threat to replace a Marvin Hall type player.
Scoring
We want this as close to zero as possible for the purposes of the mock performing well, but a lower score also means that the team had a draft with at least some players that Josh and I liked (or just overvalued).
Pitts (+4), Grant (+27), Mayfield (+3), Hall (+71), Dalman (+14), Graham (+87), Ogundeji (-2), Williams (+5), Darby (-2) = 207
In terms of overall value, we did a lot worse than we did with Arizona (who scored a -107). However, this score is heavily bogged down by Hall and Graham, both of whom we overlooked as prospects despite attending the Senior Bowl in January. Pitts, Mayfield, Ogundeji, Williams, and Darby were all mocked within 5 picks of their actual landing slot, so I'm comfortable saying we were accurate in those evaluations. We thought Grant would slip a bit due to age concerns, but weighed that too much in relation to his film. Dalman felt like a scheme-specific player that we struggled to place.
Takeaways
Bet on traits. Atlanta generally spent their later picks on height/weight/speed guys that they can mold into what they want and need. While the players we selected may have been more polished or productive, they're also more likely to be finished and limited products.
Don't force fits! We saw this with Avery Williams and it'll come up a couple more times throughout this series. We did it last year with Kenneth Murray to the Raiders also. There are always going to be player-team fits you fall in love with throughout the process, but you can't get so attached to them that no other scenarios even enter your mind.
Keep your positions straight. This is regarding Richie Grant and Hamsah Nasirildeen, two players that are both technically safeties. However, Grant is a center fielder, which fits with what Atlanta needed most at the position. Nasirildeen is more of a box safety/linebacker, which the Falcons could've also used, but was less important because of how well Jaylinn Hawkins played before getting injured in 2020. In the secondary, trenches, and at wide receiver, separating players into archetypes (corner, nickel, box, free safety for secondary, for example) is probably the way to go.
Follow Alex @alexkatson.