Mock drafts, while a very silly way to pass the time, are pretty hard. I'm of the belief that nobody is going to ever correctly predict the entire first round. Josh Norris of Underdog Fantasy set a new record for accuracy this year and got 16 player-to-team fits correct. That's right, the most accurate mock draft ever correctly put half of the first round on the correct team. Part of this is because of the way mock drafters operate, I think. Generally speaking, we look at a board of two to three hundred players that we've graded in a vacuum; at least, I do. We don't have access to medicals, interviews, immensely detailed background reports, or former coaches the way teams do. Teams also take scheme and culture into account. It all leads to a content machine that virtually nobody is good at.
Well, I want to get better. And in pursuit of getting better, I'm going team by team and reviewing what I got right and, more importantly, what I got wrong, in the 7 round mock draft I did with Josh Berg the week of the draft. This was my second year scouting, so I know I've got a lot left to learn before I'm going to be even remotely comfortable being called an "expert". Even so, it feels disingenuous to barrel forward into 2022 without first reviewing 2021.
Today's team: the Arizona Cardinals.
Draft Class Comparison
Our Draft
1.16 Greg Newsome II, CB, Northwestern
2.49 Travis Etienne, RB, Clemson
5.160 Janarius Robinson, EDGE, Florida State
6.223 Zach Davidson, TE, Central Missouri
7.243 Austin Watkins Jr., WR, UAB
7.247 Justin Hilliard, LB, Ohio State
Actual Draft
1.16 Zaven Collins, LB, Tulsa
2.49 Rondale Moore, WR, Purdue
4.136 Marco Wilson, CB, Florida
6.210 Victor Dimukeje, EDGE, Duke
6.223 Tay Gowan, CB, UCF
7.243 James Wiggins, S, Cincinnati
7.247 Michal Menet, IOL, Penn State
1.16: Zaven Collins, LB, Tulsa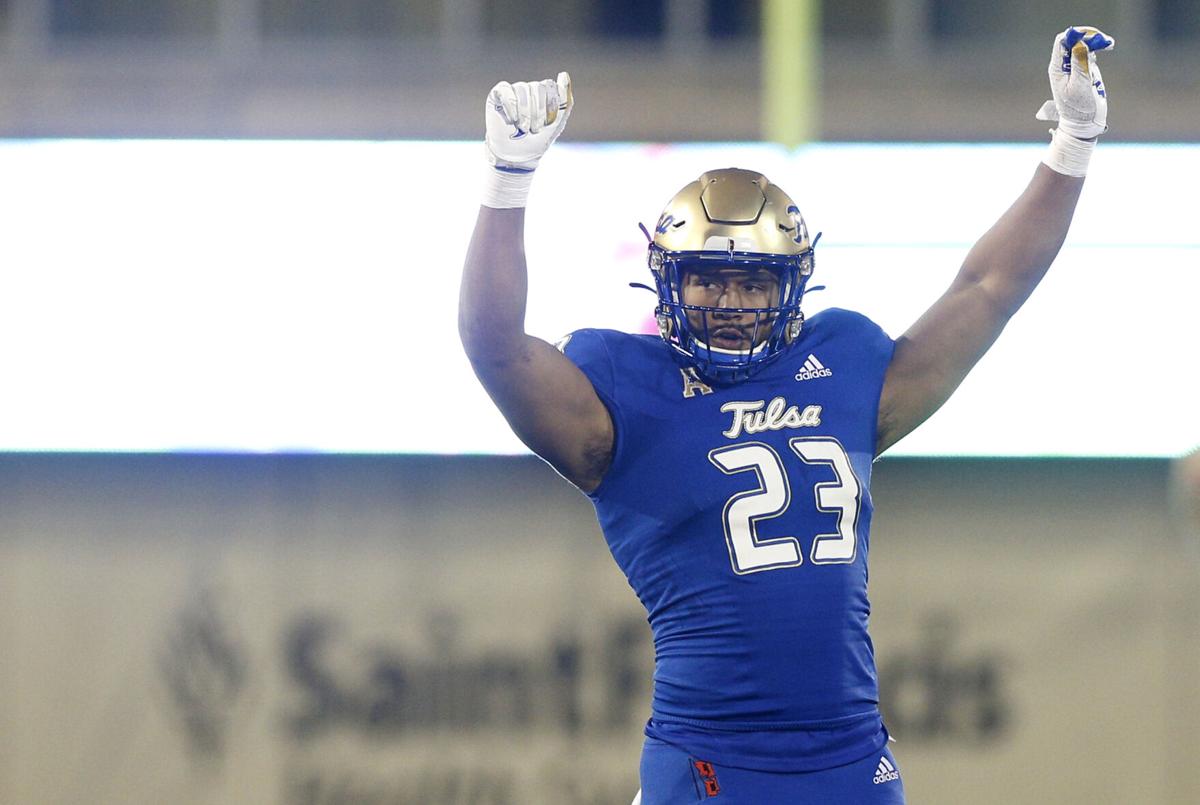 Mocked at 1.28 (+12 pick difference)
Why We Picked Newsome: Arizona's depth chart at corner was uninspiring and we saw a big drop from the top 3 (Surtain, Horn, and Newsome) to the rest of the class. Byron Murphy has been solid, but not great, and Robert Alford and Malcolm Butler are both over 30. Newsome played well in off coverage at Northwestern and profiled as a potential day one starter in press man
Why They Didn't Pick Newsome: I'd assume injuries were a big factor, considering Newsome missed 14 games due to three different injuries over three years. He's a bit lean, which compounds those durability concerns, at least in the short term. Instincts were there, but ball production was not.
Why We Didn't Pick Collins: Arizona just spent a top 10 pick on Isaiah Simmons, who they then didn't use for most of the season. With Jordan Hicks also on the roster, inside linebacker didn't feel like as much of a need for the Cardinals as corner did. We also weren't enamored with the idea that Collins could play inside and outside, even after he bulked up to 270.
Why They Picked Collins: It sure sounds like Arizona was sold on the idea of Collins on the edge, or at least on the idea of moving him around. He's currently listed as the starter opposite Chandler Jones on ESPN, which shores up a pass-rushing group that was slated to rely on another jump in production from Dennis Gardeck. As defenses continue to get more multiple, having another chess piece style defender doesn't hurt, either.
2.49: Rondale Moore, WR, Purdue
Mocked at 2.53 (+4 pick difference)
Why We Picked Etienne: A tandem of Chase Edmonds and James Conner is…fine, I guess? But nothing that should've prevented Arizona from upgrading if possible, in our opinions. Etienne is a balanced back who would've taken some pass-catching reps away from Edmonds and Conner from day one.
Why They Didn't Pick Etienne: Well, he wasn't there, since he got picked 25th overall. So, why didn't Arizona take a different running back? The league seemed to perceive a pretty steep drop from the top 3 (Najee, Etienne, Javonte Williams) to the rest, so once all 3 were off the board, it was time to kick the RB can down the road.
Why We Didn't Pick Moore: We were close, slotting Moore at 53 to the Tennessee Titans, but we thought he'd slip just a bit past 49 because of the injury concerns. On paper, Arizona didn't really need a receiver, but Andy Isabella has been a disappointment, so it's understandable why they chose to upgrade.
Why They Picked Moore: The NFL is a boat race these days, so fleshing out an offense that's almost where you want it to be is en vogue. Moore is electric when healthy as a pure slot receiver, and that's really the element Arizona was missing in 2020. In Kliff Kingsbury's offense, I'm sure the Cardinals will have no problem going 4 wide with DeAndre Hopkins, AJ Green, Christian Kirk, and Moore on the field at the same time.
4.136: Marco Wilson, CB, Florida
Mocked at 4.140 (+4 pick difference)
Arizona traded up for this pick using 5.160, the pick we spent on EDGE Janarius Robinson.
Why We Picked Robinson: We saw EDGE as a secondary or tertiary need considering Arizona returns Chandler Jones and added JJ Watt to rush from the interior at his usual 3-4 end spot. However, neither player has maintained a clean bill of health over the last few years: Jones tore his bicep in October, while Watt got through a full season in 2020 for the second time in five years. Robinson has an NFL body with tantalizing traits, which we thought made him an ideal development project.
Why They Didn't Pick Robinson: Other than trading their fifth round pick, it likely has to do with scheme fit. Robinson is 6'5" and 263 lbs, a bit better equipped to play 4-3 DE than 3-4 OLB. Sure, you could move him inside and prepare for life after Watt, but at that point, you're probably better served going in a different direction.
Why We Didn't Pick Wilson: We had Wilson going 4 picks later, so I feel pretty good about the evaluation there. Since we had already given Arizona a corner, doubling up seemed redundant with other holes on the roster. Also, he's the guy that threw the shoe.
Why They Picked Wilson: Since the real-life Cardinals didn't take a corner, the need still loomed here. Essentially, we've swapped first and third picks. Picks like Wilson are where lack of interview information comes in: we see the undisciplined plays like the shoe throw, but perhaps Arizona came away impressed with him in interviews. That, or they love the athletic package they're getting: Wilson is the third most athletic corner since testing numbers became widely available in 1987.
6.210: Victor Dimukeje, EDGE, Duke Mocked at 7.232 (+22 pick difference)
Arizona added this pick in the trade up for Marco Wilson.
Why We Didn't Pick Dimukeje: We saw a player that produced primarily as a power rusher, which always makes for a tricky projection to the NFL. Yes, Dimukeje was in the ACC, which has their fair share of talent, but forcing your way through a lineman still works at a much lower rate in the NFL. Without much evidence of his ability to string counter moves together, it's hard to project him as a player that can make an impact, even 2-3 years down the line.
Why They Picked Dimukeje: You know what you're getting with Dimukeje. He's going to run downhill at a lineman and motor his way past one way or another. My issues above were about how long that process sometimes takes him, but that sort of attitude and motivation is hard to teach. He also never missed a game while at Duke, which may have given Arizona peace of mind that he'll be available if and when someone goes down.
6.223: Tay Gowan, CB, UCF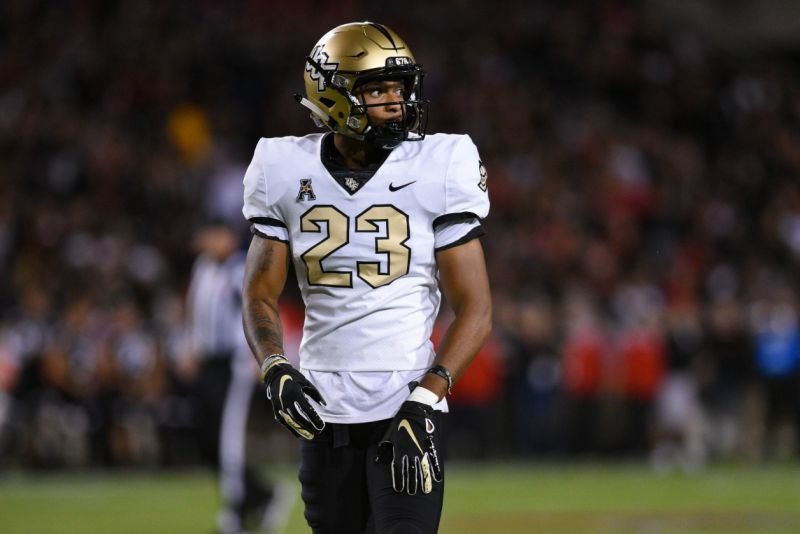 Mocked at 7.237 (+14 pick difference)
Why We Picked Davidson: The tight end depth in Arizona is thin, but so was this draft class. Kliff Kingsbury doesn't necessarily utilize tight ends very heavily anyway, so it could take a bit of a backseat. Davidson profiled as a plus athlete Kingsbury and his staff could mold into pretty much whatever they wanted, considering Davidson has only played tight end for three years after primarily being a punter.
Why They Didn't Pick Davidson: He was gone, since Minnesota took him at 168th overall. None of the other tight ends were as pliable from a development perspective. Arizona instead turned to undrafted free agency, signing two players to fill out the room.
Why We Didn't Pick Gowan: A second corner entered our minds around this point of the draft, but we had two come off the board at 217th and 218th, which left a bit of a gap in the board. Gowan wasn't an outstanding athlete, which we thought might limit his ceiling a bit, and only put 15 games on tape. We also dinged him for the opt-out tax, which we thought would be a consideration for teams in the later rounds.
Why They Picked Gowan: Much like Dimukeje, Gowan is driven. He opted out, yes, but it was because he had just had a child born prematurely in July 2020. His length and ball skills stand out on the limited film he does have and he's feisty at the point of attack. Arizona likely felt as though they could train Gowan's instincts to keep him close to receivers and make up for his pedestrian athleticism.
7.243: James Wiggins, S, Cincinnati
Mocked at 5.152 (-91 pick difference)
Why We Picked Watkins: In our draft, Arizona hadn't added to their receiver room, but we thought they might. A late rounder made the most sense to us since we thought they'd be competing for WR4. We saw Watkins as a player that could develop behind the aging AJ Green and perhaps step into that role if Green wasn't re-signed after 2021.
Why They Didn't Pick Watkins: Green, Rondale Moore, DeAndre Hopkins, Christian Kirk, Andy Isabella, and KeeSean Johnson is a tough room to crack, and one that doesn't need much more improving upon. Additionally, in terms of short-term contribution, Watkins probably didn't fit the mold of the kind of receiver Arizona was looking for.
Why We Didn't Pick Wiggins: Welcome to our first big miss of the series! We didn't pick Wiggins here because he had been gone for nearly 100 picks by this point. A member of Bruce Feldman's Freaks List, we thought Wiggins could step in fairly immediately as a matchup safety on tight ends. What we didn't consider was injury history: he missed all of 2019 with a torn ACL and the 2020 bowl game with a calf injury.
Why They Picked Wiggins: Other than Budda Baker, the safety group in Arizona doesn't really raise any eyebrows. The seventh round is also an ideal time to take a swing on players with some concerns and hope you've hit a home run. Combine those two factors and you end up with Wiggins, who Arizona may see as a potential starter if he can stay healthy in the NFL.
7.247: Michal Menet, IOL, Penn State
Mocked at 5.175 (-72 pick difference)
Why We Picked Hilliard: Hilliard was one of a few special teams aces we wanted to make sure we got into the draft, with 732 career snaps to his name in that area. He's a gold star character guy that waited his turn at Ohio State and performed when that turn came. As a late round flier, we liked the value of getting a guy like that.
Why They Didn't Pick Hilliard: A myriad of reasons, I'm sure. He's been in college since 2015, turned 24 in March, and has torn his biceps three times, his Achilles once, and his meniscus once. After a clean bill of health (not counting one missed game due to a false positive COVID test) in 2020, we thought the medicals would check out. They likely didn't, considering Hilliard went undrafted.
Why We Didn't Pick Menet: He was gone by this pick, as centers generally went higher in our mock draft than in the real thing. Part of that is because, admittedly, we're still in the infant stages of projecting linemen to positions, unless they already proved they could do it in college. That meant a lot of picking pure centers because a team needed a center, while ignoring some interior players with more positional flexibility.
Why They Picked Menet: Arizona traded for and then gave an extension to Rodney Hudson, who turns 32 in July but is still playing at a very high level. They also traded Mason Cole, leaving scraps for depth behind Hudson. Now, they've got an insurance policy for cheap if Hudson gets injured or declines over the next few years.
Scoring
We want this as close to zero as possible for the purposes of the mock performing well, but a lower score also means that the team had a draft with at least some players that Josh and I liked (or just overvalued).
Collins (+12), Moore (+4), Wilson (+4), Dimukeje (+22), Gowan (+14), Wiggins (-91), Menet (-72) = -107
The score here is really pushed down by Wiggins and Menet, both of whom we had in the 5th round. We had pretty accurate values on Moore and Wilson, who were both talented players with some blemishes. Collins we had in the first round but we were treating him as a linebacker only. Gowan and Dimukeje were fairly accurate evaluations in the later rounds, where variance increases tremendously.
Takeaways
Motor will get you drafted. That's a clear one from the selections of Dimukeje and Gowan, both of whom play football like it's the last thing on earth. We undervalued both of them, so that's something to consider going forward.
Do your injury research! Perhaps a big factor in our 16th pick Newsome slipping a bit were the injury concerns, which I don't remember seeing a ton of discussion about. In the later rounds, injuries can push you further and further down, as in the case of Hilliard, who went undrafted entirely.
Scheme fits. This is going to be a point of emphasis for probably every team as we work through this series. In a relatively simple sense, we missed the mark by giving Robinson to Arizona, who's more of a 4-3 end. In a more complicated sense, perhaps there's schematic reasons Menet fell to the seventh round. I didn't comment on those because my knowledge is not yet there. Accumulating and applying that knowledge to better match player to team is likely key to limiting the variability in mocks.
Follow Alex @alexkatson.