The Atlanta Falcons added a top tier playmaker in Kyle Pitts in the first round of the NFL Draft. The idea that they are rebuilding seems to be over and they are simply retooling for one more shot at a championship. After adding Pitts what do the Falcons have left to add, and who fits those roles best?
Falcons Team Needs:
Safety
Interior Offensive Line
Interior Defensive Line
EDGE
Corner
RB
Who are some guys that fill out these needs for Atlanta on Day 2? Lets take a look:
Jeremiah Owusu-Koramoah (LB/SAF, Notre Dame)
JOK is a 6'2″ 215lb LB Safety Hybrid who can step into the SPUR/Bullet role in Dean Pees big nickel and big dime defenses. He's a top 10 player on my board in the predraft process and the fact he is still here is insane. If a chess piece like JOK is on the board at 35, Atlanta would hard pressed to pass on a talent like him.
Christian Barmore (iDL, Alabama)
A top Alabama defender on the board the Falcons? It's hard to say no. The Falcons have been trying to find a proper running mate to pair next to Grady Jarrett. Having a player like Barmore available here would do wonders for opening up pass rushing lanes for the backers and safeties. He is a 6'5″ 310lb bear that can plug in as a 3Tech opposite of Grady Jarrett in the base defense, and kick inside next to Grady Jarrett in Nickel.
Trevon Moehrig (SAF, TCU)
Moehrig is considered to be one of the top safeties in this draft class. He can step in and be an immediate playmaker on the Falcons defense. He is a fairly athletic safety who can step in an play a part in the constantly changing and versatile look defense that the Falcons will be running this season. Should be grabbed in the second if he is there.
Richie Grant (SAF, UCF)
Another safety very similar to Moehrig, Grant is a bit more of a true Free Safety than Moehrig, but still provides the versatile backend help that the Falcons need. Grant was a Senior Bowl standout who would give the Falcons a rangy athletic safety to groom. Could be grabbed at 35 but if the Falcons trade back in the second round, Grant would make more sense.
Azeez Ojulari (EDGE, Georiga)
Azeez was mine and many others top rated EDGE rusher in this draft class. The rumor of a knee injury seems to be pushing him down the draft board. But if he passes the Falcons medicals, they should consider him at pick 35. A bendy atheletic edge who can be developed into a good pass rush option on the Falcons defense. Ojulari reminds me of current Titan, Harold Landry who broke out under Dean Pees.
Elijah Molden (CB/SAF Washington)
Molden could be grabbed in the second, but maybe even the third due to a poor pro day. Molden projects as a slot corner/nickel safety. He is a leader of the defense and should step and give Fontenot, Smith, and Pees some versatility for the defense.
Joseph Ossai (EDGE, Texas)
High motor EDGE who can be a standing pass rusher or have his hand in the dirt. Very raw player, but plays like his hair is on fire. Ossai has mixed reviews from evaluators. Some really like him, some not so much. But he is being slotted as a guy that could go anywhere on Day 2. If he is there in 3rd round, the Falcons should pull the trigger.
Asante Samuel Jr. (CB, FSU)
Son of former NFL CB Asante Samuel, ASJ brings a "dog" mentality to whoever drafts him. He is an undersized scrappy corner who is fearless in ever matchup. He mirrors any WR in phenomenal man coverage. ASJ projects to go mid to late second round. If Atlanta trades back in the second round, expect ASJ to be a target.
Wyatt Davis (iOL, Ohio State)
Davis is a guard who can do it all well. He has experience at both right and left guard for the Buckeyes and would help bolster the offensive line for Matt Ryan. Biggest knock on Davis is that he doesn't do anything at an elite level, but he was my highest rated iOL. Grabbing Davis here would be good for both Ryan and Arthur Smith's running game. Expect Davis to be grabbed late second due to positional value.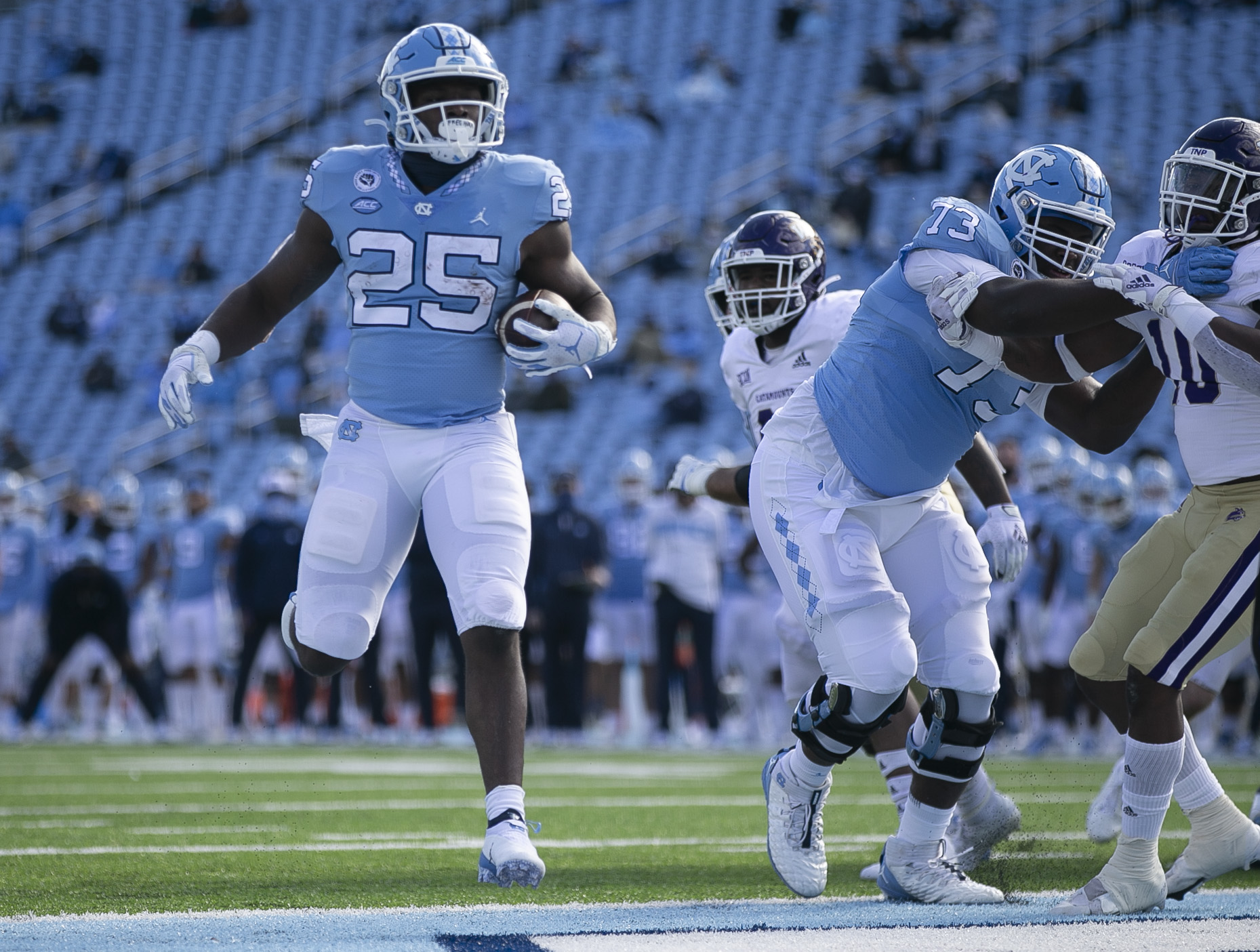 Javonte Williams (RB, UNC)
Williams is a powerful runner who can add to the Falcons rushing attack even after the signing of Mike Davis. Williams is a top back who runs hard and compares to Nick Chubb. Falcons are going to look to try to emulate the rushing attack that was Arthur Smith's bread and butter while in Tennessee, Williams can help accomplish that while being a piece for the future.
Terrace Marshall Jr. (WR, LSU)
If the rumors that the Falcons are shopping Julio are true, Marshall should be in consideration here. Marshall is physical freak very similar to Julio in a lot of ways. Both are big, fast, physical WR's who can stretch the field and become mismatch nightmares for defenses. If the Falcons take Marshall it will probably have to be at pick 35.
Creed Humphrey (Center, Oklahoma)
Rumor is the Falcons aren't sold on Matt Hennessy to be the center of the future. If that's the case, you draft Humphrey in R2 and let him compete with Hennessy for the starting center job, and then you have the loser compete with Matt Gono for Left Guard. Humphrey might even be available at the start of the third round for the Falcons due to no real interior lineman being taken yet.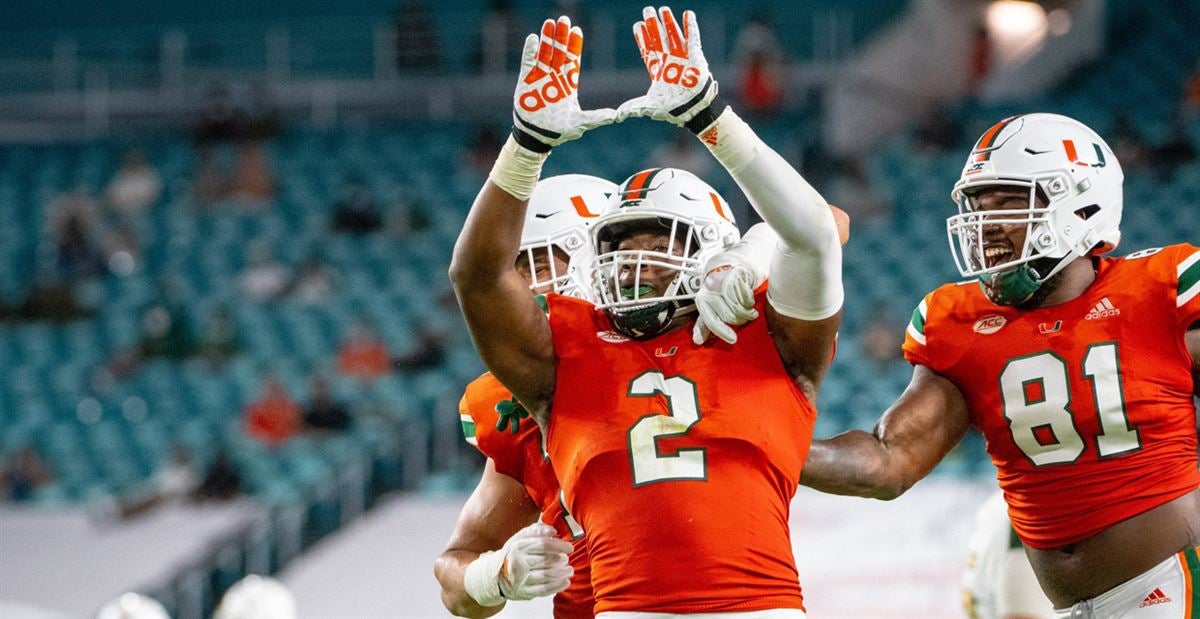 Quincy Roche (EDGE Miami)
The Temple transfer played well his season at the U. Even though he was over shadowed by Jaelan Phillips, Roche is still deserving of being picked Day 2. He has a smaller frame and should be used as a standing pass rusher, but adding Roche to the Atlanta defense gives them a stable rotation of pass rusher for Dean Pees to use. Roche should be available at the Falcons third round pick.
Follow Hunter on Twitter for all your Draft and Falcons needs @hthompsonNFL