Ladies and Gentlemen, this will be my final piece for the 2021 NFL Draft cycle. This was originally supposed to be a Full 7 round mock, but I just don't have the time for that this week with some life stuff that happened to pop up. So anyway here is my final mock draft of the 2021 Draft Cycle. This is a what I think will happen mock as opposed to a what I would do mock. Also there are no trades. With all of that out the way, y'all get ready for three rounds of mediocre action.
Pick 1: Jacksonville Jaguars: Trevor Lawrence, QB Clemson-
Do I need to explain this one? Top QB prospect goes to the worst team.
Pick 2: New York Jets: Zach Wilson, QB BYU-
If this pick were up to me it would be Justin Fields, but it's not. Wilson gives the Jets a new hope for this young and aspiring roster. Just have to hope they add the correct pieces around him. Joe Douglas had a good first draft in 2020, let's hope he keeps it up in 2021.
Pick 3: San Francisco 49ers: Mac Jones, QB Alabama-
Once again, if this pick were up to me, it would be Justin Fields. But Kyle Shanahan has a strange fascination with mediocre QB's, and Mac Jones could easily become his own Kirk Cousins. Mac comes in from an NFL offense that is similar to what Kyle Shanahan runs, while being a proven winner at the collegiate level. Not the flashy pick, but could bring some long term stability to the QB position for the 49ers.
Pick 4: Atlanta Falcons: Trey Lance, QB North Dakota State-
This pick makes sense due to Lance's skillset and consensus belief that he should take a redshirt year. The Falcons are in a rebuild whether they want to admit it or not. New general manager Terry Fontenot and new head coach Arthur Smith would be foolish to not think to the future with this pick. Lance and his dual threat ability and on the field leadership will provide a good corner stone for the Falcons future.
Pick 5: Cincinnati Bengals: Ja'Marr Chase, WR LSU-
The Bengals just let one of their greatest WR's in team history leave in AJ Green, so how do you replace that? You give young Joe Burrow his favorite weapon from his LSU days. Burrow and Chase have an incredible connection that accounted for 20 TD's in 2019. Chase adds a lot both on and off the field as he can also become a top jersey seller for the Bengals, while becoming a top playmaker.
Pick 6: Miami Dolphins: Jaylen Waddle, WR Alabama-
Miami needs to get Tua comfortable in order to see how high his upside can be. So we also give a young QB one of his favorite college WR's. Waddle is a big play threat who can take over games for the Dolphins while they attempt to break into the playoffs this upcoming season.
Pick 7: Detroit Lions: Penei Sewell, OT Oregon-
New Head Coach Dan Campbell comes from a team that values building the trenches, here they get an offensive lineman who many consider to be the best offensive tackle in the class. Sewell is a big mauling tackle who can help keep Jared Goff upright in his first season in Motor City.
Pick 8: Carolina Panthers: Kyle Pitts, TE Florida-
I think if the board actually falls like this, a team moves up for a certain quarterback who hasn't been picked yet. But I don't do trades in my mock, so here we have the Panthers selecting arguably the best offensive player in the draft in Kyle Pitts. Pitts helped bail out Kyle Trask all of the 2020 season, and will hopefully be able to do the same for the Panthers new QB Sam Darnold.
Pick 9: Denver Broncos: Justin Fields, QB Ohio State-
Once again, I think this pick would be traded, but it isn't. So here is the end of the fall of Fields. He goes to Denver, a team with young promising offensive weapons in Noah Fant, Jerry Jeudy, KJ Hamler, and Cortland Sutton. Fields would be able to step in and push Drew Lock for the starting job in Mile High.
Pick 10: Dallas Cowboys: Jaycee Horn, CB South Carolina-
The first defensive player is off the board here and the top corner in the class is going to America's Team. Horn is a physical corner who would bring an immediate and much needed swagger to a defense that needs it. Horn and Trevon Diggs would give Dallas a bright young duo in the secondary for Dan Quinn's new defense in Dallas.
Pick 11: New York Giants: Micah Parsons, LB Penn State-
Parsons is seen by many to be the top defender in this class, but he does come with some potential off the field concerns. Dave Gettleman and Joe Judge seem to be building a strong culture there so they decide to take the risk on Parsons here. Adding a playmaker like Parsons could help take this Giants defense to the next level.
Pick 12: Philadelphia Eagles: Rashawn Slater, OT Northwestern-
Philly needs help everywhere, here we have them adding Rashawn Slater to help bolster the offensive line for young Jalen Hurts. Slater is my top ranked offensive lineman who has the ability to play all 5 spots on the OL. He is a technician who will immediately improve this barren roster.
Pick 13: Los Angeles Chargers: Christian Darrisaw, OT Virginia Tech-
Protect Justin Herbert at all costs. Darrisaw is one of the best natural pass blockers in this class who can be an immediate plug in play at left tackle. The OL is still bad, but it the Chargers add Darrisaw after signing Corey Linsley in FA, it is a good first few steps to building back this roster.
Pick 14: Minnesota Vikings: Alijah Vera-Tucker, iOL USC-
Yes, I picked a guard at 14. But the Vikings could use the help. I don't like any other fit here as much as this, and it feels like a Rick Spielman pick. AVT is a guy who can play both LT or LG at the professional level. He is a dominate guard who will be a good addition for a team looking to build around Dalvin Cook.
Pick 15: New England Patriots: DeVonta Smith, WR Alabama-
The immediate solution to losing Edelman is here. Smith is a dominant undersized WR who could slide right into the slot or the outside and give the Patriots a true number 1 WR for the next decade. The Heisman winner is a smooth, crafty route runner who dominates at creating separation from CB's. There are questions about his frame, but the Hoodie has never doubted smaller WR's before.
Pick 16: Arizona Cardinals: Patrick Surtain II, CB Alabama-
Right now the Cardinals two top CB's are Robert Alford and Malcom Butler, which is fine… If it were 2016. But it is 2021 and the Cardinals need to get younger in the secondary. Here we see them add a top CB in PS2. PS2 is smooth and calm in coverage and can mirror any WR. It's not often you get a player of PS2's caliber this late in the first round, so we have Arizona grabbing him here.
Pick 17: Las Vegas Raiders: Alex Leatherwood, OT Alabama-
It seems that the Raiders are overhauling their offensive line. Adding a player like Leatherwood, who has 3 years of starting SEC experience, would be a good first step here. It may be a bit of a reach, but Leatherwood is a high character player from a high level program. Which is exactly Mayock and Gruden's approach since they have taken over the team.
Pick 18: Miami Dolphins: Azeez Ojulari, EDGE Georgia-
My top EDGE rusher goes to Miami at 18. Miami is looking for moves that have the ability to take them over the top. Ojulari is a great pass rushing prospect who can be eased into the pass rushing rotation at first and can develop into an elite threat on his own.
Pick 19: Washington Football Team: Jeremiah Owusu-Koramoah, LB Notre Dame-
When Ron Rivera was in charge of the Carolina Panthers, he drafted Shaq Thompson, a rangy undersized linebacker. Here we have the Football Team doing the same thing with Owusu-Koramoah, or JOK for short. JOK is a high energy player who excels in short range and can lay the hammer. Adding him behind a Defensive Line of Allen, Young, Payne, and Sweat could be nightmare fuel for NFC defenses.
Pick 20: Chicago Bears: Rashod Bateman, WR Minnesota
Allen Robinson wants to be freed, here we have them drafting his perfect replacement. Bateman is incredibly similar to Robinson in many different ways. Both are good route runners who are very good at the point of attack. Adding Bateman will give Andy Dalton or whoever ends up being under center, a good reliable target for the next few years.
Pick 21: Indianapolis Colts: Liam Eichenberg, OT Notre Dame-
I feel like the Colts will be trading back from this pick, but even if they trade back, I still think Eichenberg will be the Colts first pick. He is a technician in pass pro who can immediately slide in next to Nelson and solidify the left side of the offensive line. Colts need to find a way to keep Carson Wentz off his back after the Anthony Castonzo retirement. Adding Eichenberg would be able to do that.
Pick 22: Tennessee Titans: Teven Jenkins, OT Oklahoma State-
Yes, I know that the Titans need Corner help, but having a player of Jenkins caliber sliding down the board who can slot in and replace Isaiah Wilson in their scheme. Jenkins is a mauler in the run game who can be a force for this Titans offense.
Pick 23: New York Jets: Caleb Farley, CB Virginia Tech-
Farley comes in with some injury concerns, but if he passes a teams medicals, he will be an absolute steal. Farley is a top tier corner who brings elite skill in zone coverage which would be a wonderous addition to Robert Saleh's up and coming defense.
Pick 24: Pittsburgh Steelers: Sam Cosmi, OT Texas-
The Steelers need to overhaul this roster on the offensive side of the ball. Kevin Colbert and Mike Tomlin have a tough task at hand. An aging OL, aging QB, and no good RB. A good way to start fixing this is by adding Sam Cosmi who is a massive athlete who has experience at both left and right tackle. Cosmi could be a plug and play at right tackle and could be potentially groomed into a left tackle of the future. Adding to the OL is the Steelers best move with the draft board falling this way.
Pick 25: Jacksonville Jaguars: Trevon Moehrig, SAF TCU-
This is a pick that has just felt like it would happen for me. Moehrig is a top safety who can add a lot to the backend of the Jaguars. He is a high floor guy who brings leadership to the backend of the Jaguars defense. He seems like a piece that Urban Meyer will enjoy having on the roster.
Pick 26: Cleveland Browns: Christian Barmore, iDL Alabama-
The Browns have added to the DL this offseason already with Takk McKinley and Jadevon Clowney, but they also cut Sheldon Richardson. So here we give them Barmore, the top interior defensive lineman in this class. Barmore has very good traits but not a ton of experience, in Cleveland he will have a great group around him to help ease him into the pro game.
Pick 27: Baltimore Ravens: Joe Tryon, EDGE Washington-
This pick is another that just kind of feels right. Tryon is a highly athletic edge who needs to put it all together. Baltimore is the place for him to do that. Baltimore is a well coached team who gets the best out of their players. Baltimore lost a couple of their edges in this free agency period, and adding a player like Tryon to this defense, would be a good way to help attack the AFC this season.
Pick 28: New Orleans Saints: Eric Stokes, CB Georgia-
The Saints need to get cheaper across the board while attempting to stay competitive. Adding a player like Stokes, who is a playmaking corner, gives the Saints a great corner duo in Stokes himself and Lattimore. Adding Stokes also gives the Saints the ability to move on from Lattimore if they want to save cap space.
Pick 29: Green Bay Packers: Elijah Moore, WR Ole Miss-
The Packers are finally getting Rodgers some help. Moore is a good athletic WR who lined across the field for the Ole Miss offense. Adding Moore to play opposite of Adams will help Rodgers repeat his dominant year, and will also be a guy who can grow alongside Jordan Love when he takes the reins of the Packers offense.
Pick 30: Buffalo Bills: Greg Newsome II, CB Northwestern-
Buffalo needs to end the Josh Norman experiment, and Newsome is a great talent in for the Northwestern defense. Newsome is a great athlete who lines up on the outside. Adding Newsome to pair with Tre White will take the Bills secondary to an elite level. Only reason Newsome slides this far is due to some medical concerns.
Pick 31: Baltimore Ravens: Terrace Marshall, WR LSU-
What is this Ravens offense missing? A true number one WR. They added Sammy Watkins to pair with Hollywood Brown, but that isn't enough. Adding Marshall here gives the Ravens a true outside WR who has elite physical traits and can develop into the number one WR that will help take Lamar to the next level as a passer.
Pick 32: Tampa Bay Buccaneers: Kwity Paye, EDGE Michigan-
The Super Bowl winning Bucs have no real issues, so here we have them adding to their already great pass rush. JPP is getting older and Paye has shown the traits needed to succeed in the aggressive Todd Bowles defense.
SECOND ROUND
Pick 33: Jaguars: Jaelan Phillips, EDGE Miami
Pick 34: Jets: Najee Harris, RB Alabama
Pick 35: Falcons: Payton Turner, EDGE Houston
Pick 36: Dolphins: Zaven Collins, LB Tulsa
Pick 37: Eagles: Tommy Tremble, TE Notre Dame
Pick 38: Bengals: Wyatt Davis, iOL Ohio State
Pick 39: Panthers: Kelvin Joseph, CB Kentucky
Pick 40: Broncos: Jamin Davis, LB Kentucky
Pick 41: Lions: Kadarius Toney, WR Florida
Pick 42: Giants: Rondale Moore, WR Purdue
Pick 43: 49ers: Jayson Oweh, EDGE Penn State
Pick 44: Cowboys: Brady Christensen, OT BYU
Pick 45: Jaguars: Pat Freiermuth, TE Penn State
Pick 46: Patriots: Davis Mills, QB Stanford
Pick 47: Chargers: Jevon Holland, SAF Oregeon
Pick 48: Raiders: Baron Browning, LB Ohio State
Pick 49: Cardinals: Nick Bolton, LB Missouri
Pick 50: Dolphins: Travis Etienne, RB Clemson
Pick 51: Washington: Dillon Radunz, OT North Dakota State
Pick 52: Bears: Kellen Mond, QB Texas A&M
Pick 53: Titans: Asante Samuel Jr., CB Florida State
Pick 54: Colts: Aaron Robinson, CB UCF
Pick 55: Steelers: Ifeatu Melinfonwu, CB Syracuse
Pick 56: Seahawks: Ronnie Perkins, EDGE Oklahoma
Pick 57: Rams: Creed Humphrey, iOL Oklahoma
Pick 58: Chiefs: Levi Onwuzurike, iDL Washington
Pick 59: Browns: Dyami Brown, WR North Carolina
Pick 60: Saints: Amari Rodgers, WR Clemson
Pick 61: Bills: Landon Dickerson, iOL Alabama
Pick 62: Packers: Quinn Meinerz, iOL Wisconsin Whitewater
Pick 63: Chiefs: Jabril Cox, LB LSU
Pick 64: Buccaneers: Daviyon Nixon: iDL Iowa
THIRD ROUND
Pick 65: Jaguars: Nico Collins, WR Michigan
Pick 66: Jets: Carlos "Boogie" Basham, EDGE Wake Forest
Pick 67: Texans: Tyson Campbell, CB Georgia
Pick 68: Falcons: Javonte Williams, RB North Carolina
Pick 69: Bengals: Brevin Jordan TE, Miami
Pick 70: Eagles: Amon-Ra St. Brown, WR USC
Pick 71: Broncos: Gregory Rousseau, EDGE Miami
Pick 72: Lions: Elijah Molden, CB Washington
Pick 73: Panthers: Jalen Mayfield, OT Michigan
Pick 74: Washinton: Jamar Johnson, SAF Indiana
Pick 75: Cowboys: Joseph Ossai, EDGE Texas
Pick 76: Giants: Janarius Robinson, EDGE Florida State
Pick 77: Chargers: Paulson Adebo, CB Stanford
Pick 78: Vikings: Benjamin St-Juste, CB Minnesota
Pick 79: Raiders: Tommy Togiai, iDL Ohio State
Pick 80: Raiders: Richie Grant, SAF UCF
Pick 81: Dolphins: Hunter Long, TE Boston College
Pick 82: Washington: Tylan Wallace, WR Oklahoma State
Pick 83: Bears: Josh Meyers, iOL Ohio State
Pick 84: Eagles: Chazz Surratt, LB North Carolina
Pick 85: Titans: D'Wayne Eskridge, WR Western Michigan
Pick 86: Jets: Pete Werner, LB Ohio State
Pick 87: Steelers: Ben Cleveland, iOL Georgia
Pick 88: Rams: Spencer Brown, OT Northern Iowa
Pick 89: Browns: Jordan Smith, EDGE UAB
Pick 90: Vikings: Elerson Smith, EDGE Northern Iowa
Pick 91: Browns: Trey Smith, iOL Tennessee
Pick 92: Packers: James Hudson III, OT Cincinnati
Pick 93: Bills: Quincy Roche, EDGE Miami
Pick 94: Ravens: Hamsah Nasrilideen, SAF Florida State
Pick 95: Buccaneers: Seth Williams, WR Auburn
Pick 96: Patriots: Israel Mukuamu, CB South Carolina
Pick 97: Chargers: Aaron Banks, iOL Notre Dame
Pick 98: Saints: Hamilcar Rashed Jr, EDGE Oregon State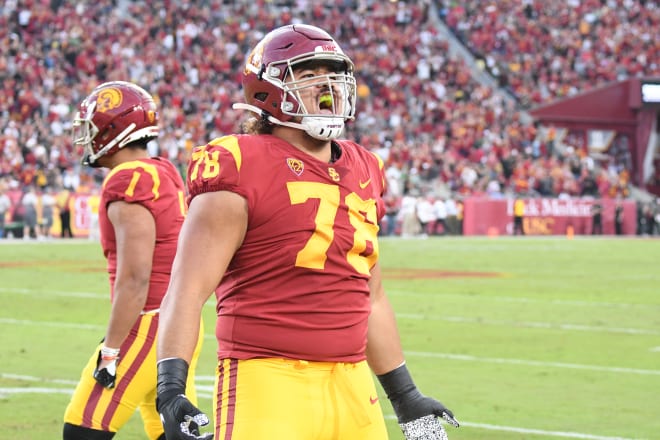 Pick 99: Cowboys: Jay Tufele, iDL USC
Pick 100: Titans: Andre Cisco, SAF Syracuse
Pick 101: Lions: Marlon Tuipulotu, iDL USC
Pick 102: 49ers: Kendrick Green, iOL Illinois
Pick 103: Rams: Cameron McGrone, LB Michigan
Pick 104: Ravens: Milton Williams, iDL Louisiana Tech
Pick 105: Saints: Tyree Gillespie, SAF Missouri
Follow Hunter on Twitter @hthompsonNFL for all Draft Needs