Less than two weeks remain until the start of the highly-anticipated 2021 NFL Draft!
With two mocks down, why not throw a third (with trades!) into the mix? And before we get into it, remember: no team has ever made a fan mad with their first-round draft selection. They always make sense!
1. Jacksonville Jaguars – Trevor Lawrence (QB, Clemson)
The more things change, the more they stay the same.
2. New York Jets – Zach Wilson (QB, BYU)
The Sam Darnold era in New York has officially made way for the Zach Wilson era.
3. San Francisco 49ers – Justin Fields (QB, Ohio State)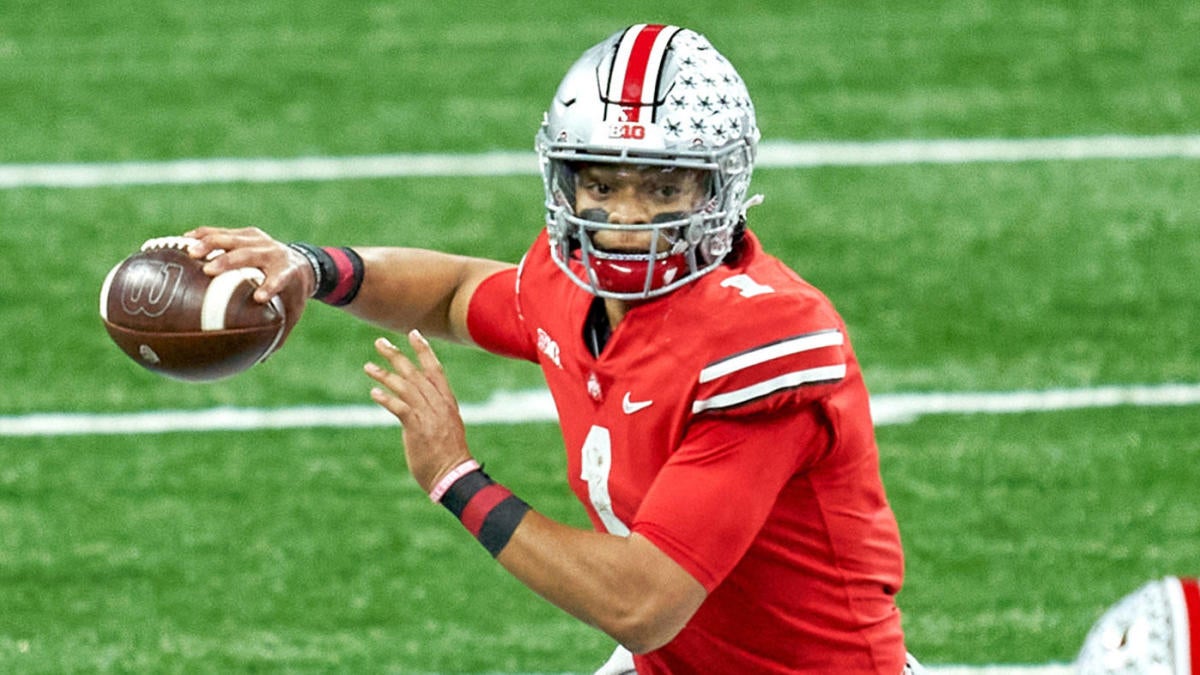 Again, I won't be at all surprised if this is Mac Jones. But I have a hard time believing you'd spend all that draft capital to leave as unique a talent and athlete as Justin Fields on the board in this spot.
4. Dallas Cowboys (via Atlanta) – Kyle Pitts (TE, Florida)
Another big shakeup in the top ten as Jerry Jones goes all-in on perhaps the draft's best player, Florida tight end Kyle Pitts. The defensive side will obviously need to be addressed but players like Pitts come along once in a blue moon.
5. Cincinnati Bengals – Rashawn Slater (OT, Northwestern)
Former Burrow teammate Ja'Marr Chase could certainly be the pick here with Pitts off the board but I don't see how you can pass on adding more protection for your franchise quarterback. Wherever Cincy plans on fitting Slater into their offensive front next season, they'll be better for it.
6. Miami Dolphins – Ja'Marr Chase (WR, LSU)
Chase is an outstanding talent and would give Miami one of the league's most formidable group of wideouts alongside DeVante Parker and free agent addition Will Fuller.
7. Detroit Lions – Penei Sewell (OT, Oregon)
Detroit could be motivated to trade down from this spot but it might be awfully hard for new head coach Dan Campbell to pass on a talent like Oregon's Penei Sewell.
8. Carolina Panthers – Patrick Surtain II (CB, Alabama)
For better or worse, with Sam Darnold in the fold it seems less likely that Carolina would invest a top ten pick in a quarterback. They continue instead to build up their young core on defense with Alabama's Patrick Surtain II, who happens to hail from the same high school as former Panthers first-rounder, Brian Burns.
9. Chicago Bears (via Denver) – Mac Jones (QB, Alabama)
The first "wow" moment of the draft comes courtesy of who else but the Chicago Bears as they trade up with the Broncos to land Alabama's Mac Jones as their new QB1.
10. Atlanta Falcons (via Dallas) – Caleb Farley (CB, Virginia Tech)
After picking up some additional draft capital in their trade with Dallas, the Falcons address the secondary with Virginia Tech cornerback Caleb Farley. Medicals may scare some teams off but from a talent standpoint, Farley is without a doubt worthy of a top-fifteen pick. Mac Jones, Trey Lance and Kyle Pitts will all be in play if Atlanta opts to stay at number four.
11. New England Patriots (via NYG) – Trey Lance (QB, North Dakota State)
Trey Lance oozes upside and the Patriots trade up four spots with the Giants to land their heir apparent to Tom Bra- er, Cam Newton.
12. Philadelphia Eagles – Alijah Vera-Tucker (OL, USC)
After trading down from six, the Eagles likely figured their pick of skill position players (Pitts and Chase) would be off the board, instead getting to a spot where they'll have their pick of offensive linemen. Here, they infuse some youth into an aging and injury-prone unit with USC's Alijah Vera-Tucker.
13. Los Angeles Chargers – Jaycee Horn (CB, South Carolina)
Offensive line is an obvious consideration here but the depth of the class could instead let the team address another need in the first round, landing cornerback Jaycee Horn of South Carolina.
14. Minnesota Vikings – Christian Darrisaw (OT, Virginia Tech)
Consider me president of the Christian Darrisaw Fan Club and, in turn, a massive fan of this selection if it happens for Minnesota.
15. New York Giants (via New England) – DeVonta Smith (WR, Alabama)
Micah Parsons will be a consideration here but you can't help but imagine Dave Gettleman being enamored with a deep threat like DeVonta Smith.
16. Arizona Cardinals – Jalen Mayfield (OL, Michigan)
Amid the splashy AJ Green and JJ Watt signings, the Cardinals' best move was the acquisition of Rodney Hudson from the Raiders. With this pick, they continue to shore up the line for Kyler Murray with the selection of Michigan's Jalen Mayfield. Oklahoma State's Teven Jenkins could be a fit at this pick, as well.
17. Las Vegas Raiders – Christian Barmore (iDL, Alabama)
You'd imagine offensive line will have to be a consideration here but Barmore is an Alabama product, causing Mike Mayock to turn the card in before his scouting department has a chance to blink.
18. New Orleans Saints (via Miami) – Micah Parsons (LB, Penn State)
The Saints were in on several of the top linebackers in the 2020 draft before taking Wisconsin's Zack Baun in round three. Here, they see an opportunity to take former five-star recruit Micah Parsons to shore up the unit in a trade up the board with the Dolphins.
19. Washington Football Team – Jaylen Waddle (WR, Alabama)
After adding Curtis Samuel in free agency, Washington adds even more playmaking ability to stop the slide of Alabama's Jaylen Waddle.
20. Denver Broncos (via Chicago) – Greg Newsome II (CB, Northwestern
I can see Notre Dame linebacker Jeremiah Owusu-Koramoah being a great fit here but after losing Chris Harris to free agency, the Broncos instead choose to find a replacement in the secondary with Northwestern standout Greg Newsome II.
21. Indianapolis Colts – Samuel Cosmi (OT, Texas)
Teven Jenkins could be a fit if he's still on the board with this pick but in this scenario, the team instead winds up with former Longhorn left tackle, Samuel Cosmi, who has been one of the fastest risers throughout the draft process.
22. Tennessee Titans – Zaven Collins (LB, Tulsa)
With the majority of the top corners and tackles off the board, the Titans go with Tulsa's Zaven Collins to shore up the linebacker unit.
23. New York Jets – Jeremiah Owusu-Koramoah (LB, Notre Dame)
Owusu-Koramoah is a real-life missile on tape and figures to be a great fit, akin to Fred Warner, in head coach Robert Saleh's defensive scheme.
24. Pittsburgh Steelers – Kyle Trask (QB, Florida)
The Steelers are reportedly enamored with Trask and that intel coincides with SI's Peter King mentioning that Trask could be the first round's sixth quarterback. So, I guess this might be a thing that happens?
25. Jacksonville Jaguars – Jayson Oweh (EDGE, Penn State)
New head coach Urban Meyer tried to lure Oweh to Ohio State back in the day and finally gets his chance to add the former Nittany Lion's super-charged traits to his roster with the team's second selection in the first round.
26. Cleveland Browns – Elijah Moore (WR, Ole Miss)
I am a huge fan of Moore's and Cleveland's recent addition of Jadeveon Clowney makes me trend in the direction of the Browns going with an offensive player at this spot.
27. Baltimore Ravens – Jaelen Phillips (EDGE, Miami)
Depending on how the Ravens view the current situation with Orlando Brown Jr., they could opt for a tackle like Stanford's Walker Little here. Instead, the go with a pass rusher with outstanding potential in Miami's Jaelen Phillips.
28. Miami Dolphins (via New Orleans) – Travis Etienne (RB, Clemson)
After trading down with the Saints, the Dolphins close out their first round with more help on offense for Tua, this time at running back in Clemson's Travis Etienne.
29. Green Bay Packers – Liam Eichenberg (OT, Notre Dame)
Wide receiver here seems to be the general theme for most mocks but the depth of this class causes Green Bay to go in a different direction, taking Notre Dame's Liam Eichenberg to shore up the offensive line. Northwestern's Greg Newsome II could be a fit here, as well.
30. Buffalo Bills – Kwity Paye (EDGE, Michigan)
Paye could go as high as number ten overall to the Cowboys but the Bills certainly won't be complaining if they see his name on the board with pick 30.
31. Kansas City Chiefs – Jabril Cox (LB, LSU)
Cox is the best coverage linebacker in the draft and would be an excellent addition to a Chiefs defense which struggled to contain the Tom Brady-Rob Gronkowski connection in the Super Bowl.
32. Tampa Bay Buccaneers – Rondale Moore (WR, Purdue)
With all 22 starters returning from the Bucs' championship run, they're one of the few teams who can truly go with a "best player available" approach. As Antonio Brown remains unsigned, the Bucs could find a replacement in electric Purdue playmaker Rondale Moore.
Other names to watch: Gregory Rousseau (EDGE, Miami), Teven Jenkins (OL, Oklahoma State), Ronnie Perkins (EDGE, Oklahoma), Rashod Bateman (WR, Minnesota), Trevon Moehrig (S, TCU)
About the author: Conor Dorney is a writer and comedian originally from Seattle, Washington. He is an alumnus of the Cronkite School of Journalism at Arizona State University. You can follow him on Twitter here so the rest of us don't have to. He currently resides in Phoenix, Arizona with his wife, Jessica, and dog, Luci.